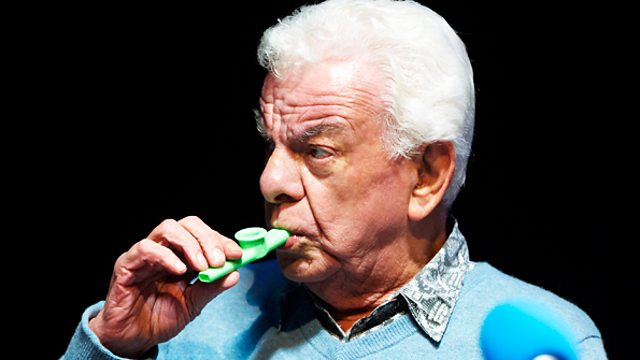 Barry Cryer, Karl Wallinger, Joanna Scanlan, Nicholas Coleridge and John Shuttleworth
Clive celebrates a milestone with comedian and clueless joker Barry Cryer, who's fifty year career has seen him write gags for the likes of Dave Allen and Tommy Cooper. Hailed by his 'I'm Sorry I Haven't A Clue' teammates as 'the dirty old man with a drink problem', Barry and Co are celebrating forty years of fun with a new book. 'I'm Sorry I Haven't A Clue: The Best of Forty Years' compiles all the best bits from this classic and hugely popular BBC Radio 4 comedy show.
Clive strikes a pose with head of publishing house Condé Nast Nicholas Coleridge, who, as well as being in charge of Vogue, Tatler and Vanity Fair, has found time to write over ten books. His latest literary venture 'The Adventuress' charts the rise and rise of Miss Cath Fox; a woman on a mission to get what she wants.
Emma Freud's Getting On famously with actress Jo Scanlan and chats to her about playing prudish Terri Coverley in 'The Thick of It' and starring as ward sister Den Flixter in BBC Four's darkly comic hospital drama 'Getting On'. In amongst the bed pans and blocked sluices lies humour and warmth. 'Getting On' starts on Wednesday 17th October at 22.00.
All aboard the Ship of Fools! Clive's throwing a party for musician and former Waterboy Karl Wallinger. After surviving an aneurysm in 2001, Karl has a lot to celebrate and tells Clive about life after near-death, Robbie Williams and releasing a collection of World Party tracks. He performs 'She's The One' from the album 'Arkeology'.
More music from former sweet factory security guard and Sheffield's finest Yamaha organ player John Shuttleworth. He's venturing beyond the garden gate to perform 'A Day In The Life Of Alfie Boe' from his latest comedy tour 'Out Of Our Sheds'.
Producer: Cathie Mahoney.
Last on
Listen to Loose Ends anytime, anywhere.