Main content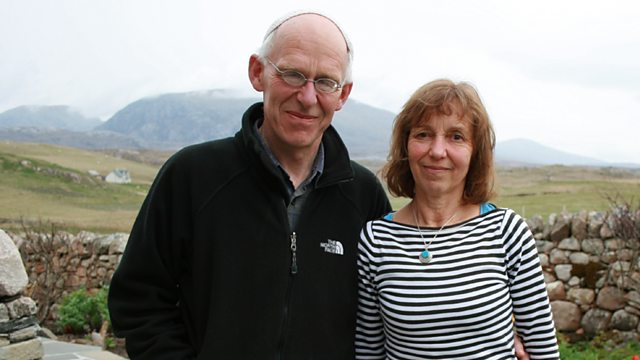 Lorgan Linda/Linda's Story
Pàrantan Linda Norgrove a' dèanamh turas tiamhaidh gu Afganastan. The parents of Linda Norgrove take an emotional journey to Afghanistan.
Tha na croitearan, John is Lorna Norgrove air cothrom a thoirt dha camarathan sealladh fhaighinn a-steach dhan t-saoghal atharraichte aca, an dà chuid aig an taigh ann an Leòdhas agus tron turas aca gu Afganastan far na bhàsaich Linda, an nighean aca nuair a dh'fhàilnich oidhirp nan SA air a sàbhaladh ann an 2010.
Bha an nighean, a bha 36, ag obair dhan bhuidhinn cobhair Ameireaganach, DAI Eadar-nàiseanta nuair a chaidh a toirt an grèim le reubaltaich Afganach. Airson dà sheachdain chùm a luchd-glacaidh i ann an àite beanntach neo-bhàidheil, ga gluasad eadar sreath de thuathanasan iomallach. Air 8 Dàmhair 2010 chaidh Linda a mharbhadh le greanèd Ameireaganach nuair a bhathas a' feuchainn ri sàbhaladh ro bheul an latha agus chaidh an luchd-glacaidh uile a mharbhadh cuideachd.
Crofters John and Lorna Norgrove have given cameras a glimpse into their changed world both at home in the Isle of Lewis and during their recent journey to Afghanistan, where their daughter Linda died during a failed US rescue attempt in 2010.
The 36-year-old was working for the American aid agency DAI International when she was kidnapped by Afghan rebels. For two weeks her captors led her into a hostile mountain region, moving between a series of remote farmsteads. On October 8 2010, Linda was killed by an American grenade during a pre-dawn rescue that also saw all of her captors killed.
Linda's Story traces the emotional journey taken by family and friends in the two years since, and their determination not to apportion blame, which has earned them international respect.
Clips