Main content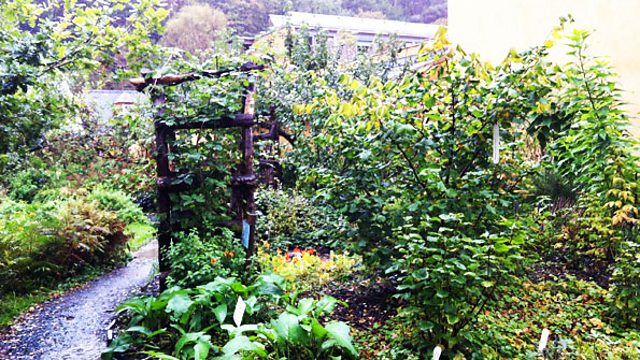 Eglwys Fach
Peter Gibbs chairs the horticultural panel programme in west Wales, with Bunny Guinness, Bob Flowerdew and Matt Biggs.
Peter Gibbs chairs the horticultural panel programme from Eglwysfach in West Wales, with Bunny Guinness, Bob Flowerdew and Matt Biggs fielding questions from a gardening audience.
Questions answered in the programme:
Q. My parents' anniversary is marked by the flowering of a magnolia planted in the spring when they were married. Does the panel have a suggestion for something similar that could mark our anniversary on October 1st?
A. Tree Mallows, or Mediterranean Lavateras, flower very well in the autumn. Vitex agnus-castus, or the Chaste bush, (despite it's name) has blue flowers which come out in autumn. Alternatively, the mountain ash Joseph Rock is autumn flowering, but has primrose yellow fruit too.
Q. Do the team think it is possible to grow rhubarb on wet, Welsh hills at over 900ft above sea level? I have tried for 25 years.
A. If the soil is too thin, the rhubarb cannot get its large root down. It does not mind the cold, so could be planted in a large container and kept behind a north wall during winter and moved into the sun during spring. Try a virus-free clone such as Victoria or Fulton's Strawberry Surprise.
Q. Do the panel think gardening is a solitary activity?
A. When gardening, you have got to be of one mind and aiming towards the same goal, so it is often better to garden alone!
Q. With few bees to pollinate this summer, should I use a soft brush to help fertilise our four mature grape vines and tomatoes.
A. You can use a feather duster (but not when they're wet). It will do no harm to do it.
Q. Which members of the Cow Parsley family like an acid soil and the wet and windy climate of Wales?
A. Baltic Parsley is recommended, standing about 1.5 metres high, it is quite hardy and can be grown from seed. Alternatively, Anthriscus sylvestris or Ravenswing, Angelicas such as Angelica Gigas, or Seseli Gummiferum are interesting variations. Parsnips produce tall stems and are a statuesque plant or you could encourage existing Hogweed plants which are attractive to insects.
Q. What plants could the panel suggest for me to grow to encourage bats to forage in my garden, remembering that bats are insectivorous?
A. A lime tree is a good habitat for aphids and, as such, would encourage bats. Honeysuckles or Lupins might also be good. A wildflower meadow containing daisies, self-heals and Yellow Rattle for example will attract insects and in turn attract bats. Hawthorn trees will attract insects, as will a pond.
Q. Why can't I grow leeks in Wales? Could it be the slate-y soil, the acidic conditions, or the windy location?
A. Most vegetables don't like an acid soil, so lime will help. Manure will also help, as will growing them with a little more space between them.
Producer: Howard Shannon
A Somethin' Else production for BBC Radio 4.