Main content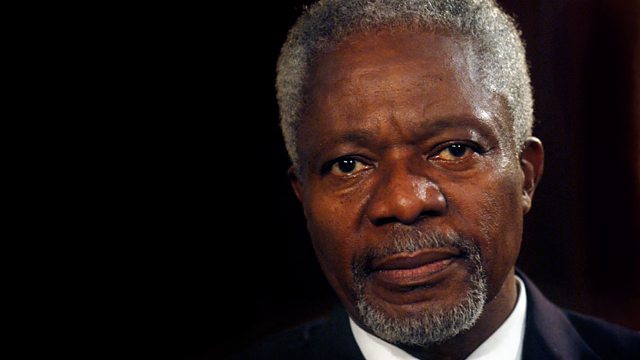 Kofi Annan
Kofi Annan talks to Philip Dodd about his father, his initiation into the American way of life as a student, diplomacy and the future of UN.
The former UN Secretary General, Kofi Annan, is Philip Dodd's guest in this evening's Night Waves. It's a wide ranging and personal conversation which touches, as you might expect on Bosnia, Rwanda, Iraq and Syria but also on the debt Kofi Annan owes to his father. The Nobel Prize winner recalls his initiation as a student into the American way of life and his rude introduction to the cold of a Minnesotan winter; there's a wry reminiscence about negotiating with Yasser Arafat; a sharp analysis of the challenges facing the UN in the future and the frustrations and rewards of being Secretary General; as well, of course, as some of the sadness that comes with the job.
Producer Zahid Warley.