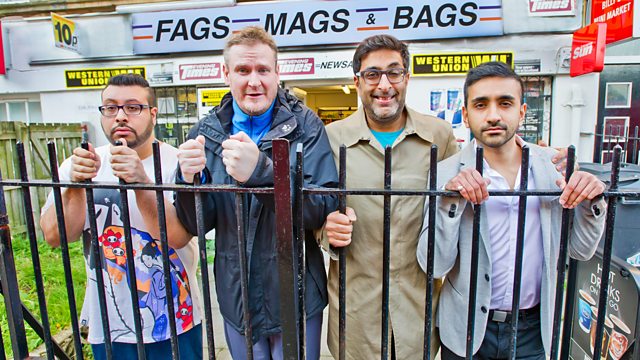 More shop based shenanigans and over the counter philosophy, courtesy of Ramesh Mahju and his trusty sidekick Dave.
In this episode, the new sweetie craze of "Fizzy Limbs" has Fags, Mags and Bags rocking every lunchtime with rampaging kids. Local headmistress Mrs Temple (Julie T Wallace) confronts Ramesh about stocking them as she feels it's affecting the children's behaviour. But are such matter Ramesh's concern?
Join the staff of Fags, Mags and Bags in their tireless quest to bring nice-price custard creams and cans of coke with Arabic writing on them to an ungrateful nation. Ramesh Mahju has built it up over the course of 30 years, and is a firmly entrenched feature of the local area. Ramesh loves the art of the "shop".
Produced by Gus Beattie
A Comedy Unit production for BBC Radio 4.
Last on
Credits
| Role | Contributor |
| --- | --- |
| Ramesh | Sanjeev Kohli |
| Dave | Donald McLeary |
| Sanjay | Omar Raza |
| Alok | Susheel Kumar |
| Mrs Temple | Julie T Wallace |
| Lovely Sue | Julie Wilson Nimmo |
| Mrs Begg | Marj Hogarth |
| Hilly | Kate Brailsford |
| Bras Jeff | Steven McNicoll |
| Writer | Sanjeev Kohli |
| Writer | Donald McLeary |
| Producer | Gus Beattie |