Main content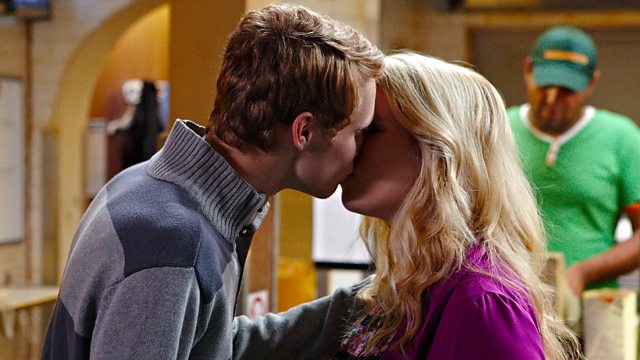 05/10/2012
Lola is ecstatic to finally get her tag off, but her happiness is short-lived when she is forced to confront her worst nightmare. A broken Michael makes a shocking decision.
Lola and Billy plan a party to celebrate Lola's tag removal. Trish arrives, informing them her visits will now be on a daily basis. Lola plans to take Lexi on the London Eye with her cleaning money and reflects on her childhood in care. Lola clashes with Phil when he stops Alfie doubling her cleaning wages, then encounters Alexa and her gang. Alexa sneers that Lexi's ugly and torments Abi, pushing and slapping her while another girl films it on her phone, then threatens Lexi; Lola punches her. In the Minute Mart, Billy invites Phil to the party. At home, Lola's horrified when Trish arrives with the police - Alexa's accused Lola of attacking her. Lola's required for questioning, Trish insists Lola hand Lexi over. Lola panics that Lexi can't go into care. Lola's led outside as Abi and Jay watch in horror, and bites Trish when she reaches for Lexi. In tears, Lola begs for Phil's help, revealing that Ben is Lexi's father. Lola's restrained by police and screams as Trish drives away with Lexi.
Kat's discovers an envelope in the Vic containing a key and a note, "I have to see you", and rejects a call from an unknown number. Kat and Alfie are stunned to discover Scarlett abandoned in her pram in the Vic with a St Christopher. They return her to Michael, who's despairing that he's too twisted for Scarlett to love. Kat comforts him, and convinces Michael to hold Scarlett's hand. Alfie's touched by Kat's compassion. Later, Kat lets herself into the George St flat and scrawls on the mirror 'Kat Loves Alfie'.
Jay comforts Abi after her encounter with Alexa. They kiss after declaring they love each other.
Max suggests re-hiring Jay at the car lot. Phil insists their deal's off if he does.
Music Played
Timings (where shown) are from the start of the programme in hours and minutes
Credits
| Role | Contributor |
| --- | --- |
| Lola Pearce | Danielle Harold |
| Phil Mitchell | Steve McFadden |
| Billy Mitchell | Perry Fenwick |
| Abi Branning | Lorna Fitzgerald |
| Jay Mitchell | Jamie Borthwick |
| Alfie Moon | Shane Richie |
| Kat Moon | Jessie Wallace |
| Michael Moon | Steve John Shepherd |
| Max Branning | Jake Wood |
| Jack Branning | Scott Maslen |
| Derek Branning | Jamie Foreman |
| Trish Barnes | Tessa Churchard |
| Alexa | Saffron Coomber |
| Chantelle | Kelsey Hardwick |
| Michelle | Kim Barry |
| PC Evans | Adam McNamara |
| Executive Producer | Lorraine Newman |
| Director | Karl Neilson |
| Writer | Simon Ashdown |