Main content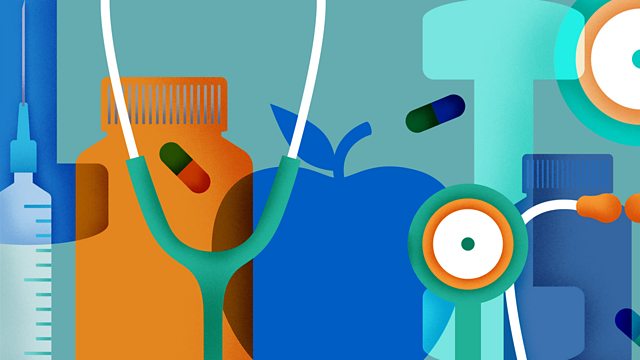 Stem cells, Functional disorders, Epilepsy, Stoptober, Whiplash
As the Nobel Prize for Medicine recognises stem cell research, Dr Mark Porter asks if it is already making a difference to patients. And do 'stop-smoking' campaigns really work?
As the Nobel Prize for Medicine announced this week recognises stem cell research, Dr Mark Porter asks if it's already making a difference to patients.
And imagine waking up with numbness in your face, by the end of the day with paralysis in your leg, all tests are normal and there's no apparent cause - Margaret McCartney reports from Edinburgh on a burgeoning field of medicine - functional disorders.
Plus an Inside Health listener who has been taking epilepsy treatment for 35 years asks when is it safe to stop taking her medication? And do 'stop-smoking' campaigns really work? Kamran Abbasi looks at the evidence.
Last on

Programme Transcript - Inside Health
Downloaded from www.bbc.co.uk/radio4<?xml:namespace prefix = o ns = "urn:schemas-microsoft-com:office:office" />
<?xml:namespace prefix = v ns = "urn:schemas-microsoft-com:vml" />
THE ATTACHED TRANSCRIPT WAS TYPED FROM A RECORDING AND NOT COPIED FROM AN ORIGINAL SCRIPT.  BECAUSE OF THE RISK OF MISHEARING AND THE DIFFICULTY IN SOME CASES OF IDENTIFYING INDIVIDUAL SPEAKERS, THE BBC CANNOT VOUCH FOR ITS COMPLETE ACCURACY.
INSIDE HEALTH
TX:  09.10.12  2100-2130
PRESENTER:  MARK PORTER
PRODUCER:  ERIKA WRIGHT
Porter
Hello and welcome to Inside Health - in today's programme:  The Stoptober stop-smoking campaign - the first mass quit attempt every tried in the UK is now in its second week. But is it any more likely to encourage smokers to quit than past campaigns? Inside Health's resident sceptic, Dr Kamran Abbasi, thinks it might.
Medically unexplained symptoms - what doctors can do to help people with ailments that defy medical science.
Clip
By dinner time my whole face had drooped, called an ambulance and they took one look and said you've had a stroke, we're taking you into the hospital. 
But it turned out not to be a stroke didn't it?
That's right.
Porter
Margaret McCartney reports.  And epilepsy - why treatment with anticonvulsant drugs needn't be lifelong.
But first Nobel prizes and stem cells. It has been announced this week that Cambridge biologist, Sir John Gurdon, will share this year's Nobel Prize for Medicine with a Japanese researcher for showing "that mature, specialised cells can be reprogrammed to become immature cells capable of developing into all tissues of the body".  But what are the implications for the rest of us - what have the other stem cell researchers managed to build on Gurdon's foundations?
Anthony Hollander is Professor of Tissue Engineering at the University of Bristol.
Hollander
Well building on the ground-breaking work of John Gurdon, of Professor Yamanaka and others we're now in a position to use stem cells to create some tissues.  In my lab we are growing cartilage and we were involved in growing an airway - a tracheal segment - that was implanted in a patient in Spain and we're running a clinical trial for new cartilage as well.  In other labs there's work on the eye and on more complex organs such as the liver and the heart, although those are not yet in full use in the clinic.
Porter
Looking at your work you say you're growing cartilage, when you're talking about growing a windpipe, you basically grew an artificial windpipe in the lab?
Hollander
We grew a six centimetre segment of windpipe which has cartilage on the outside, at least that's how we put it together, and that was implanted in a lady who was dying because her airway was collapsing.  Through the windpipe case and a small number of patients since then have been treated, not all of whom have survived by the way, we know that we can do this kind of thing, we can use cells to create bits of tissue that will function well enough to save lives or modify disease and that's great.  What we don't yet know is whether we can scale this up to treat large numbers of patients relatively easily in a very controlled and safe way, we just don't have the information because we're still at that really early cottage industry stage to be honest.  There's not many groups who are really pushing into the clinic, although in California, where I sit on the grant board review there, they've put large amounts of money into pushing these therapies into the clinic but there's almost nothing that has gone through so far.  So the UK's pretty far ahead actually and leading the way and Pete Coffey at UCL is about to embark on an embryonic stem cell trial for Macular Degeneration.
Porter
So using the stem cells in that case presumably to repair the retina at the back of the eye?
Hollander
Exactly right, yeah.  So there are projects picking up but they all have their potential pitfalls because this is really new stuff and just trying to do it safely and effectively is not straightforward.
Porter
And your work on cartilage of the knee, I mean that's to treat damaged knees presumably?
Hollander
That's right, we would like to use this kind of tissue engineering in stem cells to either prevent osteoarthritis or to treat the disease in the early stages before it gets too widespread.
Porter
You say you'd like to, how far advanced are we along the pathway, now when might we see this sort of technology actually being used in patients?
Hollander
Well here in Bristol we've just started a clinical trial using the patients' own bone marrow stem cells to repair torn knee cartilage, something called the meniscus, and that's underway in the earliest stages.  Treating the other kind of cartilage which you find at the ends of the bones is a bigger challenge and we're still a few years away from really doing that properly.
Porter
How good are we at the moment in controlling these stem cells in the lab to make them to grow into what we want them to - it must be a very complex procedure?
Hollander
Well that's one of the biggest challenges right now, we know we can create these stem cells and we know from Yamanaka's work that we can create them even from skin cells but trying to get them to do exactly what you want them to do, rather than go their own way and make lots of different kinds of cells is a fascinating scientific challenge and a difficult clinical one as well because to be safe we have to really control that process effectively and we're not there yet for most of these pathways.
Porter
And of course the problem being that if you transplant them into a patient in the form of cartilage and they carry on morphing into something else that could be dangerous potentially?
Hollander
Absolutely right, we have to stop them having this capacity for turning into lots of cells at the time we implant them otherwise we're doing something potentially dangerous for the patient.
Porter
So on the one hand you have to nurture them in the lab but once they're in the patient you have to stop them - how do you do that at the moment?
Hollander
Well it's about using specific growth factors, chemicals in the body, which these cells can respond to and using them in cocktails and at times which we find through discovery is best able to direct the cells in the way we want.  So it's a lot of painstaking research to make that happen.
Porter
But we're making significant progress?
Hollander
We are, lots of labs around  the world are doing really exciting work in these kinds of areas and it's - we're really at the earliest stages still, despite the fact that it's been a long time since John Gurdon's original work.
Porter
Another burgeoning field of medicine and one that's also attracted its fair share of controversy is the diagnosis and treatment of functional disorders.  Although we often divide medical problems into physical and psychological, the distinction is an artificial one. There are few, if any, conditions that are truly physical, or all in the mind - most are a bit of both.
But even against this background, functional disorders remain hard to understand. They are a grey area - physical symptoms, like paralysis of an arm or leg, with normal test results and no apparent cause, and where the patient isn't making them up.
Margaret McCartney went to Edinburgh to learn more.
McCartney
When it comes to disease we humans find nothing more satisfying than being able to point a finger at the broken bone or throat infection that's making us ill.  What we have trouble with is understanding how physical symptoms can be caused by the brain even when all the tests are normal.  We feel somehow uncomfortable when the scan doesn't show a disease, we get the feeling we're not believed and it's all in our head.  Yet the brain controls everything we do.  If for whatever reason its messages don't get through then it's really no surprise that our physical health can be affected.  So why the stigma?  Thankfully there are doctors at Edinburgh's Western General Hospital who are trying to break down the barriers around functional symptoms and help people recover.
Actuality - Hospital
McCartney
Hi, you must be Alan.
Carson
Hi Margaret, you managed to find your way here...
McCartney
Alan Carson is a neuropsychiatrist.
Carson
Functional symptoms are very common, in fact they're one of the commonest complaints patients come to health services with internationally and they've been long recognised really from the beginnings of written medicine.  These are originally described as hysterical disorders, psychosomatic or up until recently, when I first got involved in the field, they were tended to be referred to as medical unexplained symptoms.  But we feel this is a very unhelpful phrase because we obviously suggest they don't know what it is, whereas in fact these disorders seem to relate in some way to brain function and in some way also to psychological function, so they're at that sort of interface between neurology and psychiatry.
McCartney
So what does having a functional disorder mean then, how's it different from any other kind of disorder or disease?
Carson
They sort of break the rules, as it were, of neurological disease, so in a paralysed leg, for instance, the reflexes might be normal, which we wouldn't ordinarily expect, and the presentation seems quite consistent from patient to patient, it seems to have roughly the same rate wherever you go in the world, presentations are very similar and although these are not at a level we can use in an individual patient's diagnosis we can see that there are abnormalities that govern areas of the brain that plan and prepare for movement that are different from patients who are deliberately simulating symptoms.
McCartney
So people are not making this up, these are genuine symptoms in genuine people who are not malingerers?
Carson
Absolutely, we're positively making the diagnosis, saying I know what this is, as opposed to saying god I haven't a clue what that is and saying well we'll call it functional then.
Actuality - clinic
Stone
Okay Lucy can I ask you to just close your eyes as tight as you can and just keep them there, tightly closed for about 10 seconds...
McCartney
Dr John Stone is an expert in functional disorders.
Actuality - clinic
Stone
Are you feeling anything different in that right eye...
One of his patients is company director Lucy Bartley-Carr.
Carr
Basically I'd woken up in the morning and had had a mild sensation of numbness in my face but just assumed I was tired and didn't think anything of it.  But by dinnertime my daughter, who's 10, had looked across and said:  "Mum, are you okay", because my whole face had drooped on the right side.  I then became aware that my right arm wasn't functioning either and my husband of course panicked and called an ambulance and they took one look and said:  "You've had a stroke, we're taking you into the hospital."
McCartney
But it turned out not to be a stroke didn't it.
Carr
That's right.  All the tests - the MRI, CTs, bloods, everything - came back normal.
McCartney
That must have felt quite strange.
Carr
It was very scary in that oh if it's not that what is it and why and it wasn't until we met with Dr Stone and he'd done a few tests and had established what it was.
Actuality - Clinic
Stone
Okay so let's move on to the leg Lucy, can I get you to lift up your left leg for me....
McCartney
So can you explain to me what you're doing just now?
Stone
So from a neurological perspective you make the diagnosis of functional limb weakness based really on the examination, so Lucy's got a very typical pattern of weakness with intermittency and this is a neurological test called Hoover Sign that really only occurs in patients with functional limb weakness.  So what we're doing here is showing that when Lucy tries to keep her weak leg on the ground, so she's pushing down on the ground with her heel, she can't really do that.  And then I'm going to ask Lucy to lift up her good leg and just really to stop me from pressing this leg down, really stop me that's good, it's nice and strong.  Now as she's doing that I'm then going back to the weak leg and I can find that the weak leg has become strong and I can't now get the left heel off the ground.
McCartney
So what does that mean?
Stone
What that shows me and hopefully shows Lucy as well is that when her brain is distracted the power comes back to normal, so the weakness can't be due to any damage in the nervous system, instead it's due to a problem in the way the nervous system's working, the messages going from the brain to the leg.
McCartney
So you've described these as being functional symptoms, is weakness the only kind of functional symptom you can get?
Stone
Now well there's a whole range of functional symptoms in medicine generally - weakness, movement disorders such as tremor or gait problems.  Probably the commonest one are patients who blackout and shake and really look as if they're having an epileptic attack, in fact they're having what's called dissociative or non-epileptic attacks.  And patients with functional symptoms in neurology very often have other problems such as fatigue and pain, memory and concentration symptoms, bowel symptoms - so it covers a very wide range of problems.
McCartney
What about patients who say that there must be a physical reason just doctors need to try harder with finding a solution?
Stone
I suppose in reply to that I would say that there is a physical basis for their symptoms because they're going on in the brain, it's just that the physical basis is a functional disturbance of the nervous system, in the brain and in the person, rather than a structural disturbance.  Patients do find that very frustrating that they can't see these things on the scans and then I explain well there's lots of conditions you can see on a scan like migraine, irritable bowel syndrome.  So it's really a case of just trying to explain to the patient why you've made that diagnosis and it's not on the basis of that you think they're psychologically weak, it's about the physical symptoms.
McCartney
But not everyone finds the diagnosis easy to accept.
Stone
It's quite common for patients to feel quite strongly that they must have a disease like MS or stroke, I have to say not all patients can be persuaded.
McCartney
And it sounds as though that can be quite difficult sometimes if people have had bad experiences of doctors.
Stone
Yes that's right, so some patients have seen doctors perhaps who are sympathetic but tend to come at the problem in a way that makes the patient think that they think they're imagining it.  Other doctors really do think the patients are making these symptoms up.
McCartney
While the causes of functional disorders are complex there are some treatment options available and I'm about to see some of them in action.
Actuality - Clinic
Winters
If you bring that hand back there, so we want both hands working...
Alica Winters is Lucy's physiotherapist.
So at the moment she's working on trying to be able to pick something up and then more importantly letting go of it again.  Now as we let go....
Carr
That's part of the problem I've been finding with regaining the movement and in the grip because it is completely numb, there's no way of knowing if you've actually got hold of it or not, there's no feedback.
Winters
One of the things that we've been doing was introducing a lot of different sensory stimulus, so different things that would create feedback for the nerve, we were using hot and cold baths and sharp and soft objects and over the last few weeks we've seen those approaches have a really good effect.
McCartney
But as Alan Carson explains there's a place for psychological treatments too.
Carson
Though anyone can get it, it does seem to be more associated with people who've got other stresses on their system or who have recently had some form of physical stress like an accident.  So the rationales behind treatment are about trying to overcome that anxiety, so it's about breaking down maladaptive patterns.  But I liken it to my golf swing which I would like to be perfect but whatever I do to try and correct it seems to make the problem worse through nothing but desire to get better and I think it's the same for patients in a whole area of medicine and a lot of it's about just trying to unpick these patterns so that you optimise the natural rehabilitation process.
Carr
Well it's been five months now I have to keep reminding myself of where I've been because I was basically paralysed and my speech was really bad.  I do have bad days but it's never as bad as it was, so I'm constantly making improvements - learning to relax, learning to enjoy your time out.  So yeah it's getting there.
Porter
Lucy Bartley-Carr talking to Dr Margaret McCartney. And if you would like to find out more about that approach to managing functional disorders then you will find a useful link on our website - go to bbc.co.uk/radio4 and click on I for Inside Health.
And if there is a confusing medical issue that you would like us to look into then please do get in touch - send a tweet including the hashtag insidehealth or e-mail me via insidehealth@bbc.co.uk
Debbie Williams e-mailed us to ask about the possibility of stopping her anticonvulsant medication which she has been taking since she was 11 when she was diagnosed with grand mal epilepsy. That is the type where seizures result in loss of consciousness and shaking of the limbs.  She writes:
"I haven't had a seizure since - I am now 46 - and would dearly love to come off my medication. What are the chances that I no longer have epilepsy?"
Consultant neurologist Dr Brendan Maclean runs an epilepsy service at the Royal Cornwall Hospital in Treliske.
Maclean
The question that is being asked is extremely common and in fact it's something I would consider when I'm putting a person on treatment in the first place, is when would we be making a decision about coming off because for a significant number of people it doesn't have to be a lifelong treatment.  And what you're looking for is can you tell when somebody first develops epilepsy whether it's one that might go away or whether it's something that's likely to trouble them on and off in their life.  And there are some epilepsies, for example, particularly in children which you know will disappear, so they only need treatment for a short period of time and what you're doing is judging how long that period of time should be.  There are others in whom you know from the description of the epilepsy it may be something that will be in their lives for a lot longer.
Porter
Our listener was diagnosed with grand mal epilepsy aged 11, has been seizure free for 35 years, I mean on that story one would suspect the outlook would be pretty good if you were to come off the medicine.
Maclean
Oh yes a very good chance.  A lot of the childhood epilepsies disappear when you're grown up and age of onset would be suggestive of one of those good epilepsy prognoses.
Porter
One of the interesting things here, as a GP, is that a lot of these people will be under GPs care rather than the care of a neurologist and just on repeat prescriptions and often seeing different doctors.
Maclean
It's better now, to be fair to GPs, because they have introduced an initiative which is reviewing people with epilepsy and it's now done on their systems automatically so hopefully people who are on treatment will get an annual review just to cover these very issues.  Probably some people might escape the system because if it was diagnosed that long ago they may not even be registered as someone with epilepsy anymore.
Porter
Assuming somebody has good control and we're talking about an adult, rather than a child, so you don't know whether they're going to "grow out of it" - in inverted commas - or not, when would you start to consider withdrawing treatment then if they've been seizure free, is there a certain period or...?
Maclean
In the old days it often depended on the driving regulations because remembering at one time if you had a seizure you lost your licence for three years, so people weren't terribly keen on coming off until they'd got their licences back when they were adults.  As the licensing regulations changed and that ban went from three years to two years and now it's only one year and in fact in some instances it may only be six months the advice on how long to stay on treatment is now - has to be a bit more evidence based and most people agree that two years free of seizures would be the time you'd start to think about bringing somebody off or having that discussion with them.
Porter
What are the disadvantages of coming off - I mean obviously the main one is that your seizure comes back?
Maclean
That is the big disadvantage...
Porter
And the implications would be?
Maclean
Well seizures can be harmful to some people - injuries - a lot of it is more social.  If you've got your driving licence back and you have another seizure you lose your licence for 12 months again.  If you're in a kind of public setting and it's important for you not to have something that's visible to others that can be quite upsetting for people to know they're put into that position again.  Young people when they're leaving school and they're trying to set off in life and want to get their career sorted out they might not want to take the risk of another seizure before they've established themselves in relationships or in jobs, so you have to have a discussion tailored to the individual.
Porter
And you can't look them in the eye, as a consultant neurologist, and say look the likelihood of seizures coming back are this, you just don't know?
Maclean
You do have some rough figures.  There's been a number of studies that have tried to look into how long before you take people off would it be relatively safe and how many people relapse and broadly speaking about 30% of people may relapse, that is have another seizure when you take them off treatment; can be higher depending on backgrounds.  So you have that discussion to say yeah, there's a chance that you may have a relapse but there's also a reasonable chance if you've been seizure free for a period of time that you may have no further seizures.
Porter
What do we think's happening in these adults then that required treatment for their epilepsy, their seizures, and two years later they've not had any seizures, what's changed in their brain - has the medicine changed the brain, do we understand why the seizures don't come back?
Maclean
That's again a kind of research question.  If you look at societies where they can't afford anti-epilepsy drugs - and that's many parts of the world - they have these natural fluctuations in seizure control without treatment, so some people will go through spells of seizures, then many years with nothing and we've not altered anything in their lives.  So I think the brain has a capacity to try and suppress seizure activity itself but it's vulnerable to breakthroughs and external influences might cause problems - alcohol in this country is a big issue, alcohol is one of the commonest causes of admission to hospital with a seizure.  So there are other external factors but in some people it's just, in some ways, luck whether it comes back or not.  In others you can get a better idea.  If, for example, you've had a brain injury, so if you had a car accident, trauma to the brain, and got a seizure you've got a scar and that scar's more than likely to trigger more seizures when you come off treatment.  So people who've had brain injuries of all descriptions are less likely to come off treatment and remain seizure free.
Porter
What are the main benefits to the patients of coming off treatment, what do they notice?
Maclean
When you've been on treatment for a long time you might not notice anything until you come off and I've had a few patients who said when they've been on some of the older drugs after 30 years when they come off they said they felt as if a veil had been lifted from them, they'd been living their lives in a kind of slight cloudiness but because they'd lived their lives like that they never knew any different.  So some people will notice coming off treatment an increase in alertness, a lot of anti-epilepsy drugs are completely safe and free from side effects but some people are sensitive to them.  Psychologically as well - to take a tablet everyday reminds you of something and freedom from taking medication can be liberating for some people.
Porter
Dr Brendan Maclean talking to me in Cornwall.
We are now in the second week of the Stoptober campaign - a mass quit initiative in England to try and encourage smokers to give up for at least 28 days, complete with support pack, phone app and daily motivational texts. It is the latest in a long line of stop smoking campaigns, but the most ambitious so far. But is Stoptober going to prove any more successful than its predecessors? Dr Kamran Abbasi has been looking at the evidence.
Abbasi
Yes it's easy to be cynical about these types of campaigns but in terms of stopping smoking there are two potential reasons why it may be beneficial.  Number one is that the research data shows us that there may be many people, in fact the majority of people - smokers, want to give up.  Now what signals your intent to give up is very much setting a date, say on this date I will give up and a very small proportion of the people who want to give up end up making a serious attempt.  So Stoptober, firstly, is giving people an opportunity to say on this date I will stop smoking and I intend to stop smoking for as much of the month as possible and hopefully beyond.  Secondly, the research evidence shows us that the group behavioural therapies tend to be much more successful than individual counselling.  So if we take Stoptober as an extreme of that then they'll be thousands of people giving up together, the power of groups, the power of group thing, that that's another rationale to suggest that potentially peer pressure from other smokers who've given up this month, your family and just hearing much more about it in the news may help you stay off cigarettes. 
Porter
And the guilt of standing outside that office block in October with everybody knowing it's Stoptober and you're supposed to be not smoking... The other thing that interests me, as a clinician at the coalface, is that I often see willpower as being an important part, we often forget about it, it's a very difficult thing to measure in trials, but patients who want to stop for a valid reason often do it surprisingly successfully.
Abbasi
Yes there is some evidence that willpower, as you describe it, can be the most important factor...
Porter
So these are patients who feel they want to give up, they're not doing it because they've been told to or pressurised into it.
Abbasi
Yes precisely and also there's some evidence that if you give up and stop smoking without any assistance in terms of drug therapies that might help you or counselling that might help you, if you successfully give up you're more likely to stay off cigarettes than people who've been helped with other therapies.
Porter
The problem is you're less likely to succeed in the first place, so it's a bit of a Catch-22.  Okay Dr Kamran Abbasi thank you very much.
Clip - Today Programme
The Prime Minister will host a summit of insurance, consumer and business groups at Downing Street later today to discuss ways of bringing down the rising cost of premiums, particularly for motorists....
Porter
Whiplash is an issue that has been in and out of the news ever since Inside Health first aired at the beginning year, amid calls to stem a burgeoning compensation culture that is costing British motorists around two billion pounds a year. Dr Trish Groves is Deputy Editor of the British Medical Journal and has been following developments closely.
Groves
Well we reported back in January, so January of this year, that there was an increasing problem with the number of whiplash claims, so much so actually that the House of Commons Transport Committee said that the UK was now the whiplash capital of Europe.  This was because the claims after car crashes, financial claims, had gone up to about 550,000...
Porter
Individual claims?
Groves
Yeah between 2010 to 11 and this had driven up motor insurance premiums by up to 70%.  For your average claim for some kind of safe middle aged driver that meant an extra 90 quid on your annual insurance premium, which is quite a lot.
Porter
What's the official definition?
Groves
Right, well the official definition is that it's an injury to the neck caused by the head being thrown forward and then backwards.  So in a car crash that would be because you've been shunted from the back or really hard from the side sometimes.  Basically it's a sprain of the ligaments in the neck.  But there's even more of a problem that GPs actually aren't sure how to diagnose whiplash or what it is and when you go and try and dig around for evidence on what whiplash really is and how to treat it you don't find much.  Normally it's very mild and it goes away in a few days and that's that, you can take a bit of paracetamol and it's gone.  The problem is that if somebody rings you up after you've had an accident and says:  "Have you got a sore neck?"  And you think oh that's a bit sore and they go:  "Oh dear well that can be very nasty, it can go on for months, we could probably get you quite a lot of money for that.  All you have to do is go and see your doctor."  An awful lot of people aren't going to refuse that.  If they go to their doctor there's nothing much you can do, you can't do tests because even if you do something like a magnetic resonance imaging scan what's it going to show?  It might show a little bit of sort of swelling or something a bit funny but that has been shown in research not to relate at all to whether people have got a sore neck or not.  So in the end you're left with the patient's symptoms.  Now if that patient has arrived being told you've got something wrong you if might go on for months, you're probably going to have a nasty time and have time of work you'd better have some money, what's the doctor got to do?  And this is with only a few minutes per patient in the surgery.
Porter
There's a school of thought amongst many clinicians that it's the term whiplash because it's very evocative, maybe we should be talking, as you talked about there, a sprain of the neck and perhaps that wouldn't create such a...
Groves
Yes it really is dramatic isn't it.
Porter
It's often seen as a victimless crime, isn't it, I mean why wouldn't you claim if you can get a thousand or two thousand pounds just by going through a few basic measures but actually we all end up paying for it?
Groves
Well yes actually and sometimes patients do because there is research showing that people who feel that their whiplash isn't getting better over a long period often that's associated with anxiety and depression and of course you're not quite sure which has come first - the feeling low or the symptoms - and they all get muddled up together.
Porter
Waters that can be only muddied further by the compensation culture - Trish Groves thank you very much.
Just time to tell you about next week when I will be finding out about the most common form of tremor, and why some people get the shakes? And we meet a team of doctors and nurses who have come up with their own alternative to the dreaded hospital gown - medical pyjamas.
ENDS
Broadcasts