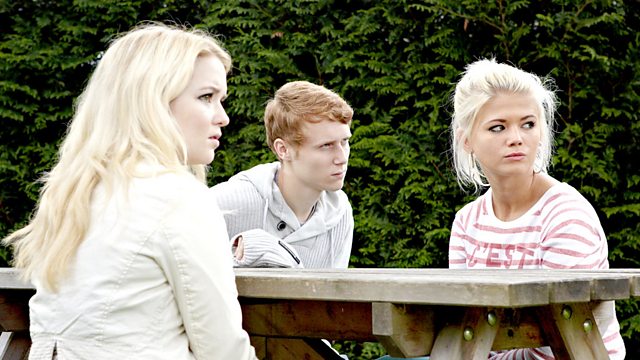 01/10/2012
Phil's pleased with the Vic refurbishment and plans a big night in the pub. On Roxy's advice, he's uncharacteristically pleasant to Denise, Michael and Joey to drum up interest. Later, Phil unveils a new Queen Vic bust which is met by unenthusiastic applause. He's disappointed when his announcement's interrupted by the Brannings' scuffle and Kat and Alfie's unexpected return. Fat Boy thinks Phil planned the night just to welcome them home. Irritated, Phil fires Kat and Alfie and announces he's back in charge for good.
Tanya wants a night out. Max arranges a double date in the Vic with Jack and Sharon. Derek invites himself along. Jack bristles when Derek make a crack about Sharon, but agrees to find Derek a date. Tanya warns Sharon against Derek. Later, they're amused when Derek's date, Lisa, towers above him. Derek fumes at being laughed at and squares up to Jack. The brothers' fight is halted by Kat and Alfie's return.
Trish is concerned Lexi has a cough and hasn't seen a doctor. Billy returns home. Lola proudly shows him her cleaning earnings, admitting she hasn't declared them yet. At Billy's insistence, Lola has a day off with Jay and Abi but can only gush about Lexi. In the park, a gang of girls watches them; Lola seems to recognise one but insists they leave. Billy's surprised when Lola's home before her curfew.
Roxy's apprehensive when Michael claims to have found a routine with Scarlett. Michael asks Roxy, then Lauren, to babysit while he has a business meeting. He sits alone in a café all day then returns home late, claiming his meeting ran long.
Ray pitches to officials from Sport England to fund his boxing scheme. He's convinced he's blown it until Kim reports that the funder's rung back, impressed.
Last on
Credits
| Role | Contributor |
| --- | --- |
| Kat Moon | Jessie Wallace |
| Alfie Moon | Shane Richie |
| Phil Mitchell | Steve McFadden |
| Arthur 'Fat Boy' Chubb | Ricky Norwood |
| Sharon Rickman | Letitia Dean |
| Tanya Cross | Jo Joyner |
| Max Branning | Jake Wood |
| Jack Branning | Scott Maslen |
| Derek Branning | Jamie Foreman |
| Michael Moon | Steve John Shepherd |
| Billy Mitchell | Perry Fenwick |
| Lola Pearce | Danielle Harold |
| Jay Mitchell | Jamie Borthwick |
| Abi Branning | Lorna Fitzgerald |
| Lauren Branning | Jacqueline Jossa |
| Ray Dixon | Chucky Venn |
| Kim Fox | Tameka Empson |
| Joey Branning | David Witts |
| Lucy Beale | Hetti Bywater |
| Denise Fox | Diane Parish |
| Patrick Trueman | Rudolph Walker |
| Roxy Mitchell | Rita Simons |
| Executive Producer | Lorraine Newman |
| Director | Karl Neilson |
| Writer | Ben Tagoe |
| Trish Barnes | Tessa Churchard |
| Lisa | Marianne Benedict |
| Keith | Charles Armstrong |
| Chantelle | Kelsey Hardwick |
| Alexa | Saffron Coomber |