Main content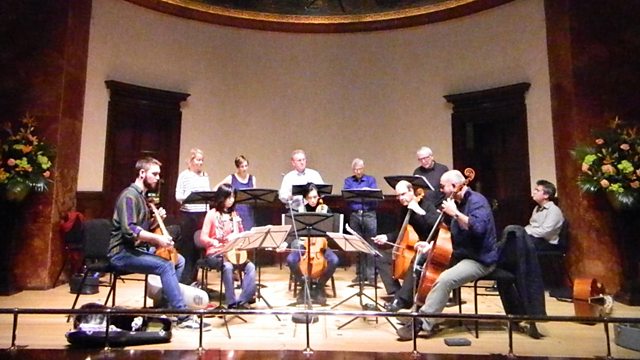 Hilliard Ensemble and Fretwork - Gibbons, Muhly
Live from the Wigmore Hall, London, the Hilliard Ensemble and Fretwork perform music for voices and viols by Orlando Gibbons, plus a new work by Nico Muhly, inspired by Gibbons.
Live from Wigmore Hall, London
Presented by Martin Handley
The Hilliard Ensemble and Fretwork, two of the UK's finest early music ensembles, join forces to celebrate the music of Orlando Gibbons, contrasted with a new work by Nico Muhly.
Gibbons: Trust not too much fair youth; O, that the learned poets of this time; What is our life? ;
How art thou thral'd; Dainty fine bird;
I weigh not fortune's frown nor smile;
Fair is the rose; Fair ladies that to love
20:05
Interval: Interval Music
20:25
Nico Muhly: My Days for voices and 5 viols (world première)
Gibbons: Now each flowery bank of May; Lais now old, that erst attempting lass; Ah dear heart;
Nay let me weep; Ne're let the sun; Yet if that age;
The silver swan
Gibbons held important positions at the Chapel Royal and Westminster Abbey for both James I and Charles I, and the world of Tudor and Jacobean England comes to life in these beautiful madrigals and consort pieces for voices and viols. And to celebrate the 400th anniversary of the publication of Gibbon's first book of madrigals, Nico Muhly has been commissioned by Wigmore Hall to write a new piece, inspired by the haunting sounds of the earlier master.