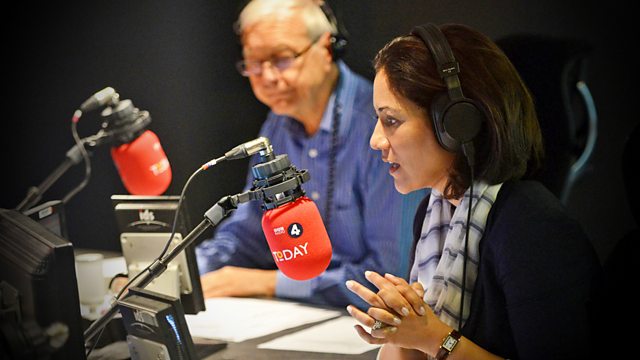 02/10/2012
Morning news and current affairs with Evan Davis and Justin Webb, including:
0749
The bodies of a father and two of his children have been discovered at a remote spot on a bridleway in Hampshire. Sarah Heatley, whose estranged husband killed their two children and Mike Berry, a clinical forensic psychologist talk to Justin Webb.
0810
At the Labour Party conference in Manchester today Ed Miliband will be outlining a response to the government's welfare reforms. The shadow work and pensions secretary, Liam Byrne tells Today's Justin Webb what to expect from Labour.
0818
Ian Hislop's Stiff Upper Lip: An Emotional History of Britain, is starting tonight on BBC2 at 9pm. Ian Hislop and Virginia Ironside, problem page editor for the Independent, discuss the British character.
0830
The two main parties competing for seats in Georgia's parliamentary elections have both claimed victory in the most hotly contested polls in the country for nearly a decade. The BBC's Bridget Kendall explains the confusion.
Last on
So you think you know the Today programme?