Main content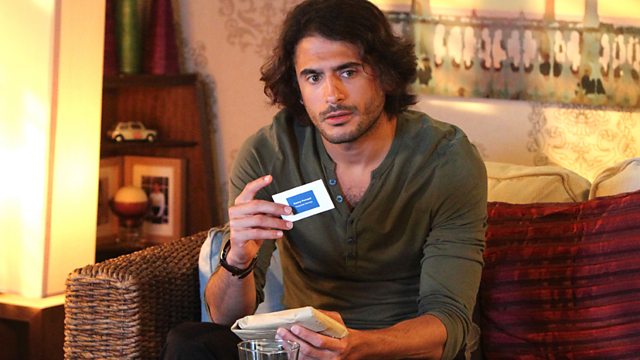 28/09/2012
Roxy is shocked by Michael's erratic behaviour; can she get through to him? Stifled by wedding plans and financial stresses, Syed contemplates an offer from Danny.
Michael wakes up to find Scarlett gone; he thinks Janine's back until Roxy returns with the baby. Michael reacts angrily when Roxy interrupts his phone call. Michael asks Jack to schmooze a potential sponsor for the gym, Coach Roberts. After seeing Michael talking to Jenny, Jack summons Roxy to the gym. Michael rounds on Roxy when he sees her holding Scarlett, ruining Coach Roberts' visit. Michael tells Roxy he's discovered Janine left the country eight days ago. He confesses he was relieved when Roxy took Scarlett earlier. Thrusting Scarlett's carrycot at Roxy, Michael bundles her out of the office.
In a rush to get to work, Syed snaps at Christian. Danny has lunch at the Argee Bhajee. Syed's hesitant when Danny asks him out for a drink. Danny introduces himself to Christian. Christian's arranged for Zainab and Masood to come over for the evening. When they arrive, Syed's out of sorts. Whilst Christian and Masood are looking at Yasmin's room, Zainab forces Syed to take the cash from the Kamil and Tamwar account. After watching a film, Syed claims he's tired and Zainab and Masood leave. Christian admonishes Syed – he could at least pretend to be happy. Alone, Syed pulls out the wad of cash and Danny's business card.
Jean and Fat Boy are outraged when Phil hires Roxy to manage the Vic. Phil ropes Sharon in to help with his decorating decisions. Jean tells Phil the place will look lovely, but it won't hide the fact that he's on his own – just like her.
Tanya's not happy that Abi's helping Lola and Jay clean when she should be studying. Abi claims to Max it's a social outreach programme. Later, in the Vic, Abi's again with Lola and Jay. At Tanya's request Max drags Abi over to have dinner with them.
Music Played
Timings (where shown) are from the start of the programme in hours and minutes
Credits
| Role | Contributor |
| --- | --- |
| Michael Moon | Steve John Shepherd |
| Roxy Mitchell | Rita Simons |
| Christian Clarke | John Partridge |
| Syed Masood | Marc Elliott |
| Zainab Khan | Nina Wadia |
| Masood Ahmed | Nitin Ganatra |
| Jack Branning | Scott Maslen |
| Max Branning | Jake Wood |
| Tanya Cross | Jo Joyner |
| Abi Branning | Lorna Fitzgerald |
| Jay Mitchell | Jamie Borthwick |
| Lola Pearce | Danielle Harold |
| Phil Mitchell | Steve McFadden |
| Sharon Rickman | Letitia Dean |
| Arthur 'Fat Boy' Chubb | Ricky Norwood |
| Jean Slater | Gillian Wright |
| Danny Pennant | Gary Lucy |
| Jenny Gunn | Marnie Baxter |
| Coach Roberts | Grant Davis |
| Executive Producer | Lorraine Newman |
| Director | Piotr Szkopiak |
| Writer | Matthew Barry |