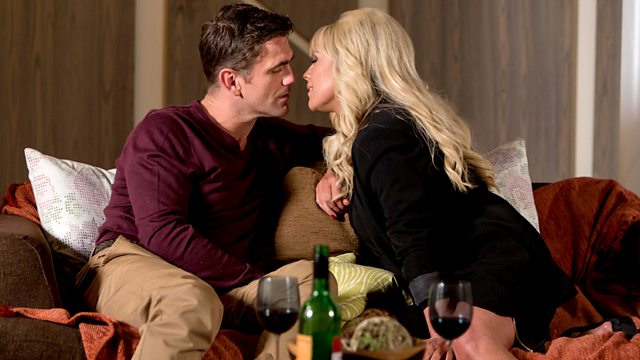 18/09/2012
Trish Barnes, Lexi's new social worker, is unimpressed to find Lexi wearing a tea towel while Lola's buying more nappies. Billy's exasperated when Jay doesn't conceal his identity. Trish questions Billy's employment. Billy claims the cleaners are still operating. Michael's furious that Janine's signed all properties over to a management agency. Billy discovers Buff! Cleaners have taken their customers. Kim's smitten with the handsome cleaners but reconsiders after discovering they have a 'don't touch' policy. After Sharon renews their contract at R&R, Billy enthuses to Michael that they can share the cleaning between them. Unimpressed, Michael slams the door.
Jack bins post that arrives for Ronnie. He defends his bachelor lifestyle when Michael questions when his last serious relationship was but later invites Sharon for dinner, recruiting Tanya to babysit Dennis. Sharon's affronted. Jack offers to cook for all of them. Sharon arrives alone, touched to see a special place set for Dennis. After dinner, Sharon kisses Jack passionately, he pulls away – he wants to do things properly. Sharon's impressed but doesn't want to take things too slowly.
Zainab's surprised to find Syed on a makeshift market stall with his cleaning stock. Syed avoids Mr Lister and hides in the gym. Christian's eager to make wedding plans; Syed lies Zainab's uncomfortable. Zainab's shocked on discovering a final demand notice addressed to Tamwar. Syed's caught by Mr Lister, and agrees when Zainab begs for help at the Argee Bhajee. To his dismay, Zainab's delighted with an autumn wedding and plans a dinner to announce it.
Derek gives Joey the Emporium. Fat Boy worries when his calls to Anthony are unanswered. Joey suggests a party at the Emporium. Fat Boy's reluctant; Lauren convinces him the boys are off enjoying themselves. They're smashing stock when Tyler returns, horrified to find Anthony gone and his business lost.
Last on
Credits
| Role | Contributor |
| --- | --- |
| Billy Mitchell | Perry Fenwick |
| Michael Moon | Steve John Shepherd |
| Sharon Rickman | Letitia Dean |
| Jack Branning | Scott Maslen |
| Derek Branning | Jamie Foreman |
| Joey Branning | David Witts |
| Arthur 'Fat Boy' Chubb | Ricky Norwood |
| Lauren Branning | Jacqueline Jossa |
| Tyler Moon | Tony Discipline |
| Syed Masood | Marc Elliott |
| Christian Clarke | John Partridge |
| Zainab Khan | Nina Wadia |
| Tamwar Masood | Himesh Patel |
| Lola Pearce | Danielle Harold |
| Jay Mitchell | Jamie Borthwick |
| Tanya Cross | Jo Joyner |
| Kim Fox | Tameka Empson |
| Mr Lister | Nick Wilton |
| Executive Producer | Lorraine Newman |
| Director | Richard Lynn |
| Writer | Peter McKenna |
| Trish Barnes | Tessa Churchard |