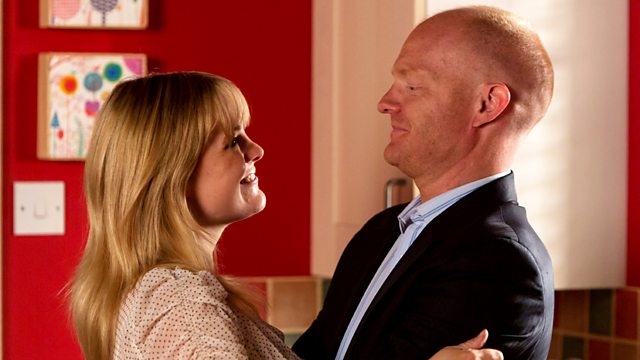 17/09/2012
Michael is relieved to find that Butcher's Joints' bank account is untouched, and leaves Scarlett with Billy, who informs Masood that Janine' has left. Michael is frustrated when clients refuse to deal with him over Janine, and focusses on buying 89B George Street. As word circulates, Jean admonishes Michael for driving Janine away; Michael maintains she'll be back. Later, Lucy is concerned that Michael's solicitor hasn't finalised the flat sale. Michael is horrified to learn Janine has transferred money from the business account. A frantic Billy arrives and drags Michael to Turpin Road, where Butcher's Joints is being boarded up on Janine's orders. Michael seethes.
Syed promises Christian that £3,000 profit from his cleaning products deal will fund their wedding. Zainab insists Tamwar organise the Argee Bhajee books. Syed worries to learn of Janine's departure, but Michael agrees to honour Janine's deal. When the restaurant accounts reflect a loss, Zainab wishes Tamwar was more like Syed. Syed is dismayed when Michael produces a cheque but tears it up and revokes on the deal. Syed demands the supplier take back his stock but he refuses, giving Syed until Friday to pay up.
Lola is irritated by the social worker when he insists she buys stronger nappy rash cream. She seeks out Jay; he warns her off. Billy suggests Lola take Scarlett's nappy rash cream. Seeing Lola's misery, Billy allows Jay round; Lola is pleased.
Jean takes charge of the Vic, chastises Fat Boy and Mo for giving away free drinks and declares that all punters who don't pay are barred.
The Branning brothers are out of sorts; Derek turns to Alice for company, but she's busy. Max overhears Tanya, Cora and Sharon discussing weddings and messing around with a charity shop wedding dress. The brothers learn that Kat and Alfie have gone away. Jack calls Sharon, while Max gives Tanya a calendar with a wedding date - 24th December. Derek pays Alice's bar tab.
Last on
Credits
| Role | Contributor |
| --- | --- |
| Michael Moon | Steve John Shepherd |
| Billy Mitchell | Perry Fenwick |
| Syed Masood | Marc Elliott |
| Christian Clarke | John Partridge |
| Lucy Beale | Hetti Bywater |
| Lola Pearce | Danielle Harold |
| Jay Mitchell | Jamie Borthwick |
| Tanya Cross | Jo Joyner |
| Sharon Rickman | Letitia Dean |
| Cora Cross | Ann Mitchell |
| Max Branning | Jake Wood |
| Executive Producer | Lorraine Newman |
| Director | Richard Lynn |
| Writer | Peter McTighe |
| Derek Branning | Jamie Foreman |
| Alice Branning | Jasmyn Banks |
| Joey Branning | David Witts |
| Lauren Branning | Jacqueline Jossa |
| Arthur 'Fat Boy' Chubb | Ricky Norwood |
| Jean Slater | Gillian Wright |
| Mo Harris | Laila Morse |
| Jack Branning | Scott Maslen |
| Ray Dixon | Chucky Venn |
| Masood Ahmed | Nitin Ganatra |
| Zainab Khan | Nina Wadia |
| Tamwar Masood | Himesh Patel |
| Graham Avens | Ian Conningham |
| Dave | John Burton |
| Matthew | William Findley |