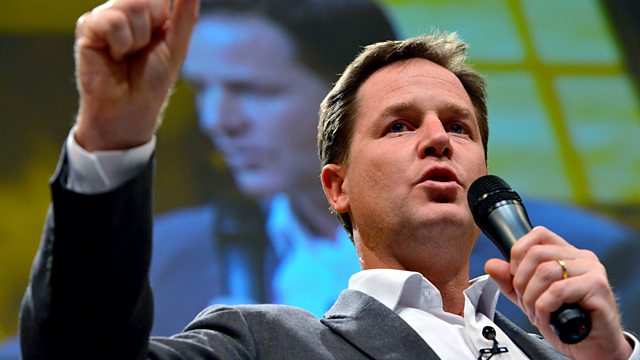 24/09/2012
Morning news and current affairs presented by Sarah Montague and Evan Davis, including:
0752
John Terry has announced he will no longer play for England, as he appears before an FA disciplinary panel today facing a charge of using racist language during a match last year. Mark Palios, former chief executive of the Football Association, gives his reaction.
0810
The Deputy Prime Minister Nick Clegg speaks to Sarah Montague from the Lib Dem conference in Brighton where he has faced some tough questions from delegates over the damage caused by breaking his promise on tuition fees.
0822
The Conservative Party chairman Grant Shapps has gained some recent notoriety over the revelation that when running an internet business before becoming an MP, he traded under a pseudonym, Michael Green. Heather McGregor, who runs an executive search company but who also writes as a character called Mrs Moneypenny in the Financial Times, explains the benefits of having an alter ego.
0831
General Motors is suspending production for a week at the Vauxhall plants in Ellesmere Port and Luton, due to the fact that sales in the eurozone have been slow. Sir Nick Scheele, former president and chief operating officer of Ford, and Prof Karel Williams, a car industry expert, debate the health of the British car industry.
Last on
So you think you know the Today programme?