Main content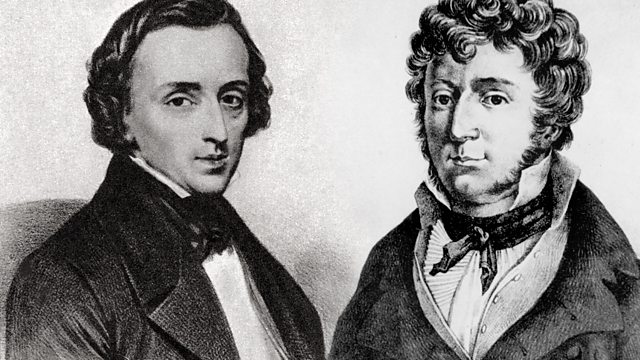 Field and Chopin and Their Legacy
Donald Macleod evaluates the impact of Field and Chopin on other composers. Including Chopin: Polonaise, Op 53. Chopin: Nocturne No 21 in C minor. Field: Exercise No 2 in C, H48.
Donald Macleod in conversation with the pianist Míċeál O'Rourke, explores two piano giants, the towering Romantic Fryderyk Chopin, and the Father of the Nocturne John Field.
By the mid 1840s, Chopin and George Sand's relationship had come to a stormy end. The last time he saw Sand was in 1848, although he always kept a lock of her hair. During this same period, Chopin was trying to finish a sonata for a friend of his, the cellist Auguste Franchomme. Chopin wrote a little, and crossed out a lot, but eventually completed his Sonata in G minor for cello and piano, opus 65.
In 1848, revolution had broken out in Paris, and Chopin's aristocratic friends and pupils had fled. Chopin himself made a trip to London and Scotland, but the heavily-polluted London air did nothing for his consumptive lungs, and Chopin returned to Paris. By October 1849, Chopin had died and was buried in a grave between Bellini and Cherubini. The final nocturne Chopin composed two years before his death, was the Nocturne in C minor no.21.
The composer and pianist John Field was also very ill towards the end of his life, and like Chopin in a bid to drum up more support, left his home and travelled to London and then toured other parts of Europe. Field gave his first Paris concert in 1832, performing his Piano Concert no.7. Míċeál O'Rourke discusses with Donald Macleod how this work was not only very challenging for the ailing composer, but also now out of date, and didn't leave a great impression on Liszt and Chopin who were present in the audience. Field made his way back to Russia, and was by this time very ill. He died in 1837.
Pianist Míceál O'Rourke in discussion with Donald Macleod, concludes the week talking about the legacies of both Chopin and Field. Chopin was a remarkable pianist, but none of his students went on to be great performers. Field on the other hand taught many notable pianists, and can be seen as the Father Figure to the Russian piano tradition.
More episodes
Next
You are at the last episode