Main content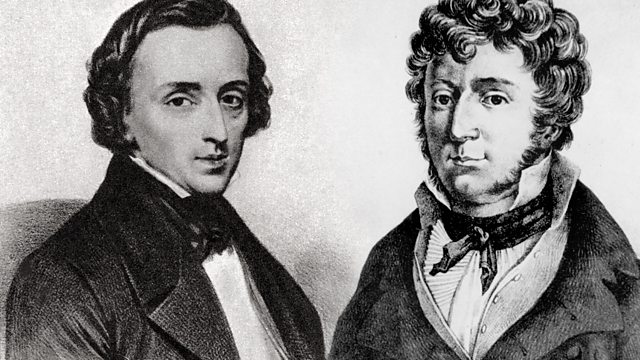 Field and Chopin at the Height of Their Fame
Donald Macleod focuses on Field and Chopin at the height of their fame.
Donald Macleod in conversation with the pianist Míceál O'Rourke, explores two piano giants, the towering Romantic Fryderyk Chopin, and the Father of the Nocturne John Field.
By around 1819, things were not looking good for John Field's marriage. Field and his wife were not well suited, and were also incredible flirts. It was around this time in St Petersburg that they performed a piano duet in a concert together, which could have been Field's Rondeau in G for four hands. In that same year, Madame Field was pregnant with the couple's first child, yet by the time their son Adrien was eighteen months, the marriage was over.
By 1822, Field was at the height of his fame, and many musicians flocked to see and hear him perform. The pianist and composer Hummel was in Moscow where Field now lived, and was determined to meet Field. Pianist Míceál O'Rourke in conversation with Donald Macleod, discusses how Field was viewed by his contemporaries during this period. This was a time when Field was also enjoying himself playing the viola in amateur string ensembles, and for one of these occasions, he may have composed his Quintet in A flat major.
Frederyk Chopin was also at the height of his career by 1836, and like the older composer John Field, he also had a very complicated relationship, which by the standards of the time, would have been seen as scandalous and socially problematic. Chopin and George Sand decided to get away from it all, and escaped to Majorca. This holiday was not what they expected, with appalling weather, and Chopin's health deteriorating. During this time, he was able to work on a number of pieces for piano, including his set of 24 preludes opus 28.
From 1839, now back in France, Chopin started to complete what would be his second piano sonata. This work confused many musicians at the time. Robert Schumann wrote that the four movements were like "four unruly children".