Main content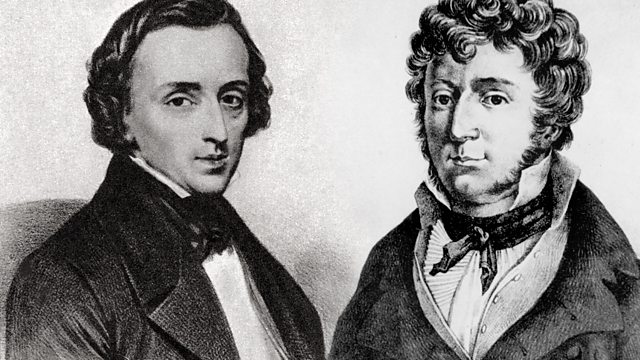 Field and Chopin Unsuccessful in Love
Donald Macleod surveys the complicated love lives of John Field and Fryderyk Chopin. With Field: Piano Concerto No 2. Chopin: Piano Concerto No 2 (excerpt).
Donald Macleod in conversation with the pianist Míceál O'Rourke, explores two piano giants, the towering Romantic Fryderyk Chopin, and the Father of the Nocturne John Field.
By around 1830, Chopin was now living in Vienna, and it was during this period that he composed some of his early nocturnes, including his Nocturne in E flat major, opus 9 no.2. Pianist Míceál O'Rourke explores in conversation with Donald Macleod, how this early nocturne by Chopin bears a direct relationship with the nocturnes of John Field.
This relationship extended past the nocturnes to the orchestration of larger works. Again demonstrating from the piano, Míceál O'Rourke explores the relationship between Field's Piano Concerto no.2, and the Piano Concerto no. 2 by Chopin.
Chopin found living in Vienna quite difficult, and decided to up sticks and move to Paris. He soon developed quite a reputation for himself, and was in demand as a teacher for aristocratic pupils. In fact, this enterprise made him so much money that he was able to afford a new flat and even a servant. It was around this early period in Paris that Chopin fell in love with one of his pupils, Maria Wodzinska, but the relationship came to nothing. Chopin did compose a number of romantic songs during this period, including My Darling, and The Ring.
The course of love for both Chopin and Field tended to be a rather bumpy ride. For John Field, he was now married to one of his talented pupils, Percherette. However, men found her coquettish nature very attractive, and Field himself was very flirtatious and fickle. 1815 saw the birth of Field's illegitimate son, Leon, and also the first sketches of Field's challenging Fifth Piano Concerto.