Main content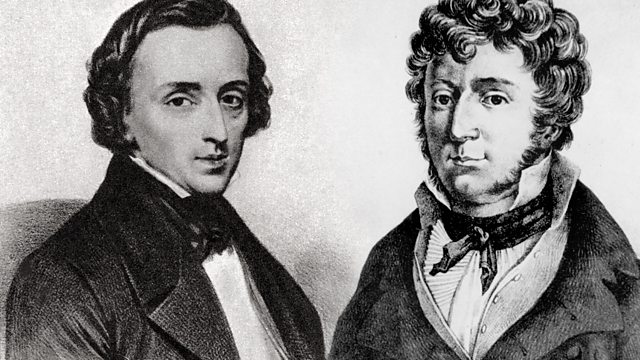 Field and Chopin Spread Their Wings
Donald Macleod explores Field and Chopin's early careers. With Field: Sonata in A, Op 1 No 2. Chopin: Ballade No 1 in G minor, Op 23.
Donald Macleod in conversation with the pianist Míceál O'Rourke, explores two piano giants, the towering Romantic Fryderyk Chopin, and the Father of the Nocturne John Field.
John Field was now quickly establishing himself as a piano virtuoso in London, and was soon in demand for portrait painters and medallists. One picture to have survived from around 1800, shows Field to be sat, quill in hand, in the very act of composing his early Sonata in A major for the piano. These first sonatas Field dedicated to Clementi.
Clementi planned a business trip to Paris, and then on to St Petersburg, and Field journeyed with him. It was in Russia that Field would make his home for the rest of his life, and quickly established himself amongst the rich and aristocratic. For these aristocratic circles, Field composed a number of chamber works, including his Divertissement no.1 in E major.
Field now became so popular in both Moscow and St Petersburg, that he had an apartment in both cities. He kept his own servants and carriage, and often wouldn't turn up for appointments and lessons, but instead enjoy himself with friends drinking champagne, and smoking Havana cigars. Russian music did influence some of the works Field went on to compose, including his Variations on Kamarinskaya.
The Kamarinskaya variations by Field proved to be a source of inspiration to the younger composer Fryderyk Chopin, as pianist Míceál O'Rourke demonstrates. This is evident in Chopin's Variations in B flat on La ci darem la mano opus 2, which marked the composer's arrival on an international music stage.
Chopin like Field, moved away from his native land, and both composers went on to push the boundaries of piano playing and writing. For Chopin, this is very evident in his Ballades, such as Ballade no.1 in G minor.