Main content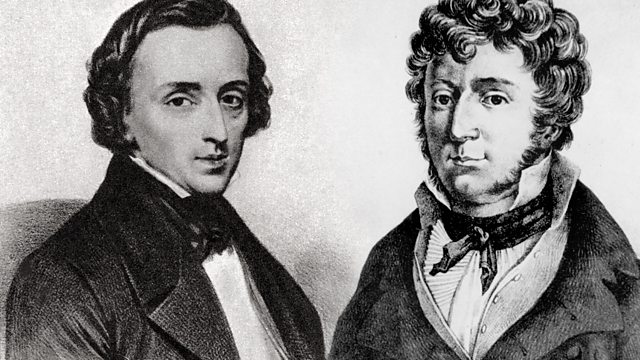 Field, Chopin and the Nocturne
Donald Macleod explores the origins of the nocturne. Includes Chopin: Mazurka No 1 in B flat, Op 7; Polonaise in G minor, KK IIa/1 (1817). Field: Nocturne No 1 in E flat, H24.
Donald Macleod in conversation with the pianist Míceál O'Rourke, explores two piano giants, the towering Romantic Fryderyk Chopin, and the Father of the Nocturne John Field. John Field was considered the greatest pianist of his day, living an eccentric life in Russia, and admired across Europe by the likes of Hummel, Liszt, Schumann and Spohr. His talents as a pianist were renowned, and he taught many students including Glinka. During Chopin's early career, he was often asked if he was the pupil of John Field, which Chopin found flattering. Both composers developed enviable reputations as performers and composers, yet they both died relatively young due to illnesses they'd long suffered from. During the week, Donald Macleod will be exploring the legacy of both composers, and how Field may have influenced works later composed by Chopin.
When asked what he thought of Chopin, the composer and pianist John Field remarked: "What has he written? Nothing but mazurkas." Field had at that time only heard early Chopin, such as the Mazurka no.1 in B flat major. However, as a young pianist and composer, Fryderyk Chopin soon started to make a name for himself, and after a command performance for the Tsar of Russia, was awarded with a diamond ring.
Chopin entered the Warsaw Conservatoire, where he developed his skills further, composing works such as the Piano Trio in G minor. However, from early on there was an influence from the older composer John Field, which can be heard in Chopin's Nocturne no.7 in C sharp minor.
John Field was born in Ireland almost 30 years before the birth of Chopin, and like Chopin he quickly made his name as a pianist, although Field's talent was encouraged rather harshly, with beatings from his father and grandfather. Field was soon composing little dance-like works, such as his Irish sounding Rondo on the theme, "Go to the Devil". Recognising Field's talent, his family soon moved to London where young John was apprenticed to Muzio Clementi, known to the French as 'The Pope of Musicians'.
Field's apprenticeship required him to perform on regular occasions in Clementi's piano showrooms, encouraging prospective buyers to purchase an instrument. However, Field's reputation as a pianist was about to get a boost, with a performance in London at the age of about 17, of his first Piano Concerto no.1 in E flat major.
More episodes
Previous
You are at the first episode