Main content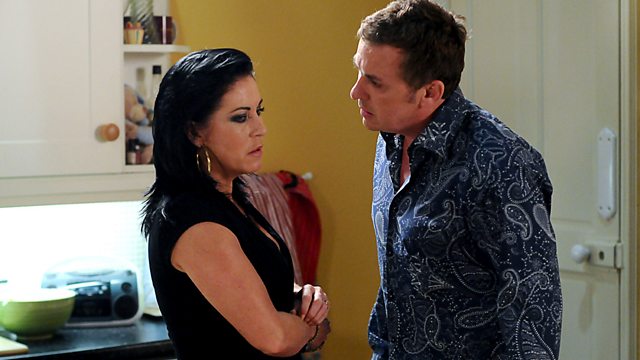 14/09/2012
A furious Alfie is determined to get the truth from Kat, but she is desperate to protect her final secret. Is this the end of the road for the Vic's favourite couple?
Janine tells Michael he can take the £450,000 in the suitcase and leave - does he want her, or the money? All of Janine's fears and suspicions start tumbling out. Calm, Michael admits he initially had one eye on the money but then fell in love with her. Michael insists all he wanted was to be equal partners, but she had to be in control. Eventually, Janine goes to bed; if she wakes up and the money's there, she'll know Michael loves her - if it's gone, she'll know he never did. Janine can't sleep. Finding Scarlett's cot empty, she rushes downstairs to find Michael comforting Scarlett and the money still there. Scathing, Michael tells her she has killed any real love he had for her - with Janine as a mother, what chance has Scarlett got? Michael goes out, and when he returns, Janine tells him she's relieving him of his duties as a husband. Emotional, she hands him Scarlett. Watching Janine drive away, Michael says 'I love you'.
Alfie demands details about Kat's affair. She reveals it has been going on for months and she got involved, but even when Alfie pins her against the wall Kat won't reveal her lover's name, claiming Alfie doesn't know him. Alfie throws Kat out. Meeting Michael in the Square, Kat admits she has been having an affair and Michael advises her to beg Alfie for forgiveness. Returning inside, Kat passes the drunken Branning brother trio. Upstairs, Kat suggests to Alfie that they go away on holiday, to try and figure out what's wrong. Alfie demands Kat phone her lover and tell him it's over. She does, then smashes the phone before Alfie can take it. Kat sadly watches as her lover and his brothers cross the Square. She, Alfie and Tommy get into the Capri and drive away.
Clips

Music Played
Timings (where shown) are from the start of the programme in hours and minutes
Credits
| Role | Contributor |
| --- | --- |
| Janine Butcher | Charlie Brooks |
| Michael Moon | Steve John Shepherd |
| Kat Moon | Jessie Wallace |
| Alfie Moon | Shane Richie |
| Derek Branning | Jamie Foreman |
| Max Branning | Jake Wood |
| Jack Branning | Scott Maslen |
| Jean Slater | Gillian Wright |
| Executive Producer | Lorraine Newman |
| Director | Jennie Darnell |
| Writer | Simon Ashdown |