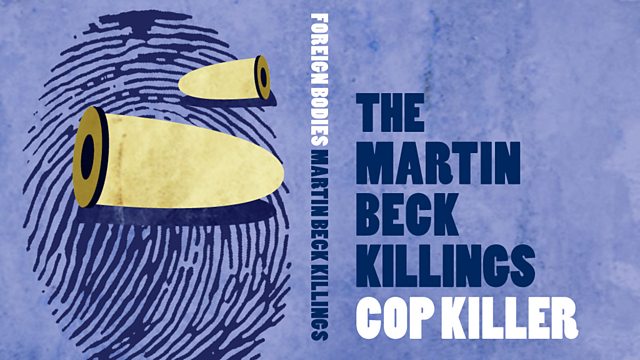 Cop Killer
by Maj Sjöwall and Per Wahlöö
Translated by Thomas Teal
Dramatised for radio by Jennifer Howarth
The murder of a woman in a small village outside Malmö in Southern Sweden wouldn't normally warrant the attentions of Detective Inspector Martin Beck and his team. But this woman lived next door to a man who has already killed once, and the press are taking a lot of interest in the case. Beck and Kollberg aren't getting anywhere when a teenage shootout between two teenage boys and the police not far away starts a series of events that eventually leads them to the killer, and sets the seal on a significant decision for Lennart Kollberg.
Original Music by Elizabeth Purnell
Directed by Sara Davies.
Last on
Credits
| Role | Contributor |
| --- | --- |
| Narrator | Lesley Sharp |
| Narrator | Nicholas Gleaves |
| Martin Beck | Steven Mackintosh |
| Lennart Kollberg | Neil Pearson |
| Gunvald Larsson | Ralph Ineson |
| Hergot Allwright | Howard Coggins |
| Einar Ronn | Wayne Foskett |
| Malm | Nicholas Murchie |
| Folke Bengtsson | John MacKay |
| Bertil Mard | Kenneth Collard |
| Caspar | Fraser Burrows |
| Christer | Will Howard |
| The Breadman | Paul Mundell |
| Clark Sundström | Ben Crowe |
| Maggie | Jenny Harrold |
| Mrs Sundström | Philippa Stanton |
| Sigbrit Mard | Joanna Brookes |
| Radio Reporter | Will Glennon |
| Actor | Sara Davies |
| Adaptor | Jennifer Howarth |
| Author | Maj Sjowall |
| Author | Per Wahloo |