Main content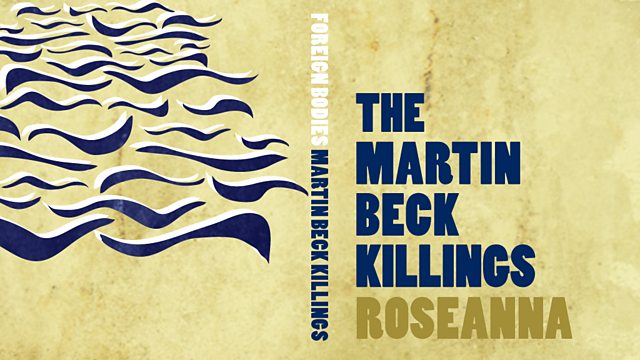 Inspector Beck and his colleagues are faced with the body of an unknown girl. Jennifer Howarth adapts the first book of Maj Sjowall and Per Wahloo's Swedish detective series.
Roseanna is the first in the Martin Beck series, written over ten years from 1965 - 1975 by the husband and wife writing team of Maj Sjöwall and Per Wahlöö. Featuring the intriguing, dogged, intuitive complex figure of Detective Inspector Martin Beck and his colleagues in the National Police Homicide Department in Stockholm, the books set a gold standard for all subsequent Scandinavian crime fiction, and for much of the best crime fiction in Britain and America written since the 1960s. The books have been admired and imitated by crime writers and readers ever since their publication; now Radio 4 offers audiences the opportunity to discover just why the books have been so acclaimed by those in the know.
The use of crime and police procedure to hold up a mirror to society and its most dysfunctional elements is commonplace now, but that's because Martin Beck paved the way for subsequent generations of European crime writers whose fallible heroes - Kurt Wallander, John Rebus etc. - make the best fist they can of their own lives whilst trying to tackle the violence around them.
The books were written deliberately to give an unsentimental, realistic portrait of Sweden in the mid-sixties: not the liberal place it was thought to be, but a society suffering from a stifling bureaucracy and a creeping rottenness behind the surface sheen. Confronting the dark side of this society are stubborn, logical, anti-social Detective Inspector Martin Beck, his closest friend Detective Inspector Lennart Kollberg - overweight, hedonistic, opinionated; Detective Inspector Frederick Melander, with a memory like a card-index file and a noxious pipe clamped in his jaws, and their colleagues in the murder squad.
In Roseanna, they are faced with the body of an unknown girl found in a canal dredger. The long investigation ends with a risky and frightening sting.
Dramatised for radio by Jennifer Howarth
Original music by Elizabeth Purnell
Directed by Sara Davies.
Last on
More episodes
Previous
You are at the first episode
Credits
| Role | Contributor |
| --- | --- |
| Martin Beck | Steven Mackintosh |
| Lennart Kollberg | Neil Pearson |
| Ahlberg | Jonathan Tafler |
| Kafka | Garrick Hagon |
| Bengtsson | John MacKay |
| Inga Beck | Lucy Black |
| Sonja Hansson | Susie Riddell |
| Police Doctor | Patrick Brennan |
| Mulvaney | Harry Livingstone |
| Miss Peterson | Amaka Okafor |
| Siv Lindberg | Amaka Okafor |
| Colonel | Robert Blythe |
| Miss Gota | Jenny Harrold |
| Doctor | Christine Absalom |
| Adaptor | Jennifer Howarth |
| Director | Sara Davies |
| Author | Maj Sjowall |
| Author | Per Wahloo |
Broadcasts