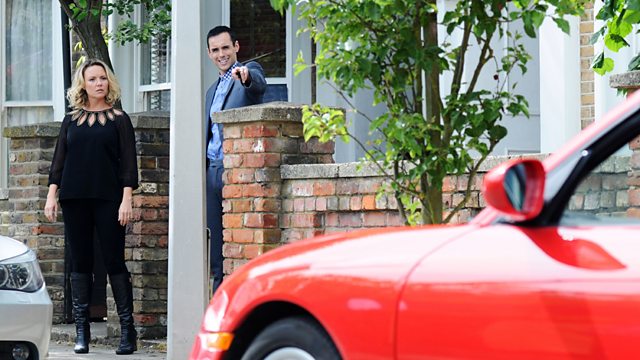 06/09/2012
When Denise finds Shirley passed out on Bridge Street, she and Christian bring Shirley to the B&B. Patrick is concerned at having Shirley and Jay under one roof. Jay tells Shirley that he's sorry. Shirley attacks Jay; Patrick and Denise are forced to intervene. Denise tells Shirley that if she wants to stay, she has to find a way to forgive Jay; as Shirley thinks that she can't, Denise suggests she leaves Walford. Shirley goes to Phil's and tries to persuade him to have some of her booze. Phil tells her that he's lost everything too, but Shirley tells him that he isn't broken like she is. Shirley slumps into a drunken heap outside the Vic; she looks up and to her disbelief sees her daughter, Carly, who's disgusted at the state Shirley's in.
Kat tries to move back into the Vic but Alfie insists it's not safe. She arranges to meet her lover, but he later sends a text - "usual place no go". Kat rushes to their flat to find the place crawling with bed-bugs; Shirley wasn't the carrier after all. Kat brings Tommy to the Vic, insisting they're coming home and won't take no for an answer. Alfie relents.
A suspicious Janine brings Scarlett to Butcher's Joints and convinces Michael to spend the day with his daughter; she'll sit in for him at work. Janine finds an un-explained cheque-stub for £20,000 and confronts Michael. Annoyed, Michael shows Janine a Porsche parked outside their house: a gift for her. Janine worries that Michael has a guilty conscience.
Sharon lets Dennis miss school. Jack gives Dennis a pep talk about being his own man so Sharon won't worry about him. Sharon tells Jack to mind his own business: one night of passion does not give him licence to lecture her son.
Last on
Credits
| Role | Contributor |
| --- | --- |
| Shirley Carter | Linda Henry |
| Carly Wicks | Kellie Shirley |
| Phil Mitchell | Steve McFadden |
| Kat Moon | Jessie Wallace |
| Alfie Moon | Shane Richie |
| Jay Mitchell | Jamie Borthwick |
| Patrick Trueman | Rudolph Walker |
| Denise Fox | Diane Parish |
| Kim Fox | Tameka Empson |
| Sharon Rickman | Letitia Dean |
| Jack Branning | Scott Maslen |
| Dennis Rickman | Harry Hickles |
| Janine Butcher | Charlie Brooks |
| Michael Moon | Steve John Shepherd |
| Billy Mitchell | Perry Fenwick |
| Christian Clarke | John Partridge |
| Mr Lister | Nick Wilton |
| Executive Producer | Lorraine Newman |
| Director | Ian White |
| Writer | Wendy Granditer |