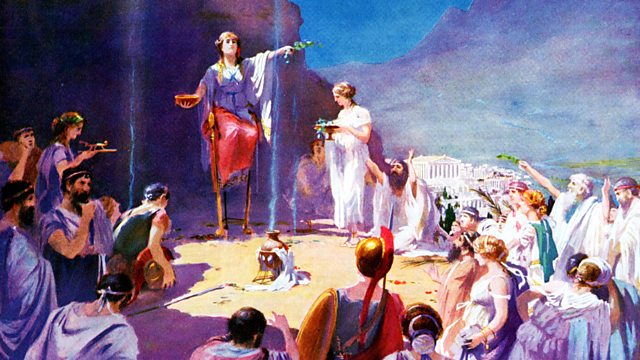 Juliet Gardiner begins her journey into the History of the Future with a look at the Oracle of Delphi, the place where the Ancient Greeks went to consult the Oracle and hear what the future held for them.
Juliet argues that a history of the future is really a history of anxiety, and begins her excavation of how the futurologists of their day foretold what was to come, and what these visions says about the pre-occupations of the time. How different were prophesies about the future at different points in history? What can ideas about the future tell us about the past?
People seek reassurance about the future, but that desire is rooted in their understanding of the present, with its specific predicaments, and it is these particularities that Juliet will be unearthing. Whose master plan does the future represent? Is it determined by God, or gods, or does man have the power to change what might seem predetermined?
This series of ten programmes will range from the Apocalyptic visions found in the New Testament Book of Revelation, to the enigmatic prophesies of Nostradamus in 16th century France to the science fiction dystopias of HG Wells and George Orwell. In 5th Century BC Greece, the god Apollo and his Oracle at Delphi was central to the idea of the future. In a fragmented society made up of warring City States with no over-arching authority people flocked to the Oracle to see what the future held. The Priestess through whom the god Apollo would speak would greet a questioner seated on a tripod in an underground chamber chewing bay leaves and surrounded by the intoxicating vapours which escaped through the fault line in the earth on which the Temple was built. Juliet speaks to classicists Nick Lowe and Hugh Bowden, and visits a tarot card reader on Brighton Pier.
Produced by Victoria Shepherd
A Juniper Production for BBC Radio 4.
Last on
More episodes
Previous
You are at the first episode