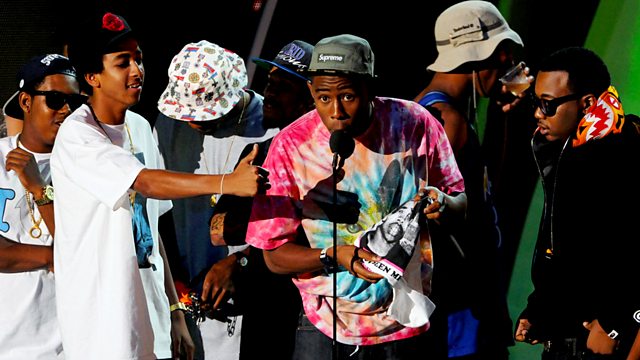 The Story of Odd Future
Odd Future Wolf Gang Kill Them All is an LA collective of young producers, rappers, photographers, writers, directors, t-shirt makers, skateboarders, bloggers and all-in-all cult creators. This group consists of highly driven musical artists, creating some of the most unhinged, funny and profound hip hop in the market today.
These young minds are brash, bizarre and amazing. The collective acts with all the love and support of a family - but with a load of sweets, vomit, dinosaurs and alligator wrestling thrown in for good measure. The music is a mixture of 'anarchy rap,' the warped humour of 'salad fingers' and what sounds like the over-usage of a thesaurus. Each member has a personal style, creating grey areas in the categorising of musical genres - and when they work together they blur the lines further, which has created a huge fan base and worldwide acclaim.
Since their origins in 2008 the collective have produced over 20 albums, bagged themselves a TV show, won VMA's, created a clothing label and made 'Musty Butthole' trend on Twitter!
Odd Future have been criticised for their use of homophobic and misogynistic lyrics, but they claim not to mean any of it and view the words as a test for the uninitiated and lazy critics.
Regardless of the criticism, group leader Tyler the Creator has not only become famous, but made all his best pals famous too. They have single-handedly caused so much hype and aggro, that they are impossible to ignore. Their tongue in cheek references to drugs and murder mingle childishly with catfish, rainbows, Earls big lips, swag, unicorns and centaurs. They cause offence, but say it's only to make fools of the easily offended.
Expect a bombardment from the screwy world of Odd Future, on tour and at home in LA, with screaming fans, intimate honest interviews and Taco's guide to surviving a zombie attack. In the words of Jasper Dolphin...SHAZAM!
Last on