Main content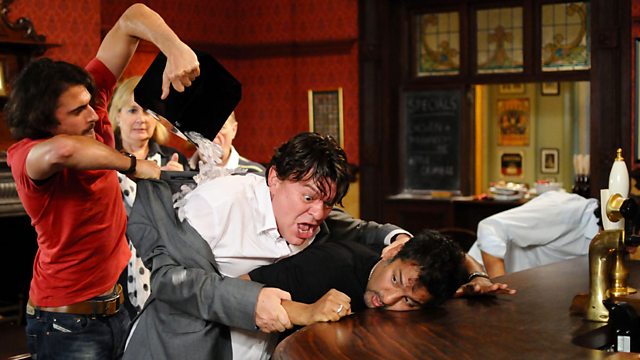 31/08/2012
Kat is shocked by her response to a fight amongst the footballers. Alfie faces a difficult decision when Phil fails to persuade Shirley to talk through their difficulties.
The football team are off for an away game. A present's been left on the bar for Kat: it's perfume. Alfie calls the Vic to let them know that a fight has broken out; Kat is worried for her lover. At the Vic, Alfie reveals that they have been kicked out the pub league: it turns out Ray was signed up for both teams. A testosterone-charged team battle out their differences in front of Kat's bar. Once Kat has managed to stop the pub brawl, she tends to her mystery man upstairs. Alfie nearly catches their tender moment; he tells Kat that he's sorry for taking her for granted. Kat realises that the perfume was from Alfie, not her lover. Kat's mystery man disappears but he leaves an 'I Love You' message for her written in lipstick on a bandage.
Ian tells Sharon he wants her to meet a friend of his: another mother whose kid will be starting school at the same time as Dennis. It's Tanya, and the two begrudgingly hold a play date with the kids. The mothers get competitive over their kids abilities and take over a game of Wii the boys are playing. Bored, the Dennis and Oscar take themselves off to play in the kitchen while their mums battle it out in a virtual boxing ring.
Phil leaves Alfie no choice but to sack Shirley; she takes a bottle of vodka as her redundancy pay.
Lucy struggles to deal with Bobby and Ian's ever-repairing relationship; she tells Ian that he can't pretend the past hasn't happened.
Aliyah comes to the Masoods' with the remainder of AJ's things. Zainab learns that Aliyah didn't have an affair. AJ tells Zainab that Aliyah is desperate for children, and he doesn't want any: that's why their marriage is finished.
Music Played
Timings (where shown) are from the start of the programme in hours and minutes
Credits
| Role | Contributor |
| --- | --- |
| Kat Moon | Jessie Wallace |
| Alfie Moon | Shane Richie |
| Sharon Rickman | Letitia Dean |
| Tanya Cross | Jo Joyner |
| Max Branning | Jake Wood |
| Derek Branning | Jamie Foreman |
| Jack Branning | Scott Maslen |
| Ray Dixon | Chucky Venn |
| Arthur 'Fat Boy' Chubb | Ricky Norwood |
| Masood Ahmed | Nitin Ganatra |
| Michael Moon | Steve John Shepherd |
| Shirley Carter | Linda Henry |
| Mo Harris | Laila Morse |
| Jay Mitchell | Jamie Borthwick |
| Phil Mitchell | Steve McFadden |
| Ian Beale | Adam Woodyatt |
| Lucy Beale | Hetti Bywater |
| Alice Branning | Jasmyn Banks |
| Zainab Khan | Nina Wadia |
| AJ Ahmed | Phaldut Sharma |
| Aaliyah Ahmed | Ann Wenn |
| Dennis Rickman | Harry Hickles |
| Executive Producer | Lorraine Newman |
| Director | Lance Kneeshaw |
| Writer | Colin Wyatt |