Main content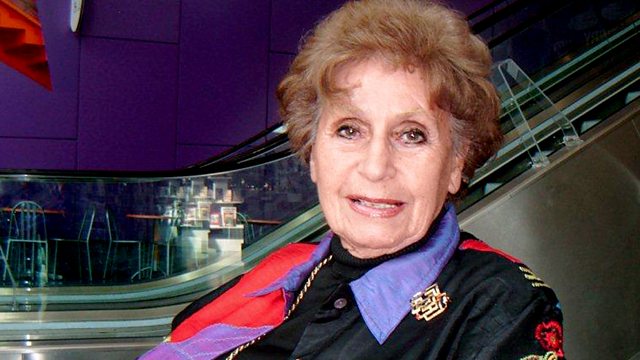 Zdenka Fantlova, Lynn Woo, oysters and surviving retirement
Jenni Murray discusses holocaust survivor Zdenka Fantlova, the World Oyster Eating Competition, and how to survive retirement while ensuring your relationship does too.
Zdenka Fantlova is one of a dwindling number of Holocaust survivors still alive today. Born in Czechoslovakia, She spent time in Terezin concentration camp, Auschwitz and Bergen-Belsen and weighed only 77lbs when she was rescued by a British Army officer in 1945. When she and her young lover Arno were separated during the war, he gave her a handmade tin ring, to keep her safe until they could be together again. Now her story of survival in adversity has been turned into a one-woman play, to debut at the Lowry in Salford this week. She'll tell Jenni about how she survived internment and why she believes that what she went through enriched the rest of her life.
This weekend will see the Hillsborough International Oyster Festival takes place in Ireland.The oyster is a delicacy dating from Roman times. Once considered food for the poor, years of over-fishing have elevated the oyster to luxury status. Native or Pacific, farmed or wild, from Colchester, Cornwall or Carlingford they all have their own unique character. We find out how to choose, serve and eat them.
It's two years since a young British doctor, Karen Woo, was shot dead by gunmen, never confirmed but thought to be the Taliban, in a remote mountainous region of Afghanistan. Having completed a medical relief mission, Karen's convoy was ambushed returning back to Kabul. Karen was murdered alongside nine other team members. She had been due to get married in London just two weeks later. Her mother Lynn joins Jenni to talk about her daughter and how work among Afghan women and children is now under way as a result of the foundation created in her name.
As you approach the end of your working life retirement can seem like a light at the end of the tunnel, a new era of freedom where you're finally able to do all the things you ever dreamed of. But it may not be everything it's cracked up to be. What if you get bored? What if your partner gets on your nerves? What if you get on their nerves? When a listener wrote to Woman's Hour sharing concerns about her husband's impending retirement, it raised the question of how to survive retirement - and how to make sure your relationship does too. Presented by Jenni Murray.
Last on

Chapters
Karen Woo

British doctor, Karen Woo, was killed in Afghanistan in 2010. Her mother Lynn joins Jenni.

Duration: 10:05

Surviving retirement

Emma Soames of Saga Magazine, and retired TV director Stephen Lockwood join Jenni to discuss.

Duration: 09:35

Woman's Hour Drama: Grudges

Writer Hattie Naylor and actor Prunella Scales ask you to get in touch with your experiences.

Duration: 04:49

Zdenka Fantlova

Zdenka Fantlova, playwright and one of a dwindling number of Holocaust survivors still alive today, talks to Jenni.

Duration: 09:06

Oyster eating

Jenni is joined by Douglas Wright, from restaurant group Loch Fyne and social historian, Judith Rowbotham.

Duration: 08:02

Broadcast