Main content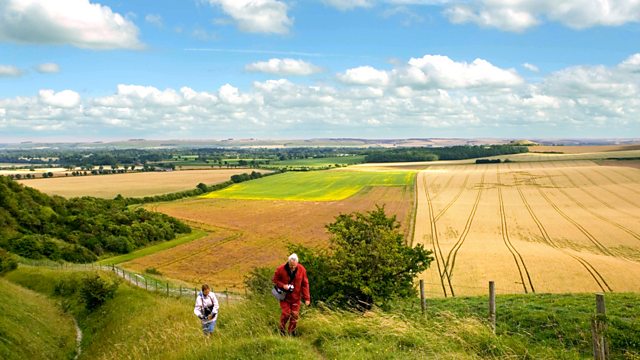 Isle of Bute
Helen Mark goes 'doon the watter' to explore the Isle of Bute off the west coast of Scotland.
Helen Mark explores the landscape and waters of the Isle of Bute off the west coast of Scotland where, for over 200 years, visitors have gone 'doon the watter' to take advantage of the island's relaxing atmosphere and healing properties. Suggestions have been made that Bute should be designated as Britain's first 'blue space', an area defined by blue sea, sky and fresh air which all have a therapeutic effect. Boarding the ferry at Wemyss Bay, Helen joins Shiona Lawson, one of those whose family would take the ferry each year to go 'doon the watter'. Shiona recalls that back then the beaches seemed to go on forever and the sun seemed to be always shining and remembers an island that had such an effect on her that she eventually moved to live there. At the harbour to meet Helen is James McMillan. James is a 'Brandane', someone who was born and bred on the island.
Helen then meets up with Roddy McDowell who runs Kayak Bute and who takes Helen out on the waters around the island and gives her a lesson in sea kayaking , an experience which Roddy describes as crossing the boundary between the green space and the blue. Helen then hears from archaeologist, Paul Duffy, about the rich heritage of Bute. Walking from the car park at Scalpsie Beach to the seashore, Paul takes Helen on a journey through 8000 years of history in 8 minutes. Finally, wildlife photographer Philip Kirkham gives Helen a lesson in photography on the shoreline in front of his house under the big skies of the island he loves.
Producer: Helen Chetwynd.
Podcast
Countryside magazine featuring the people and wildlife that shape the landscape of Britain