Main content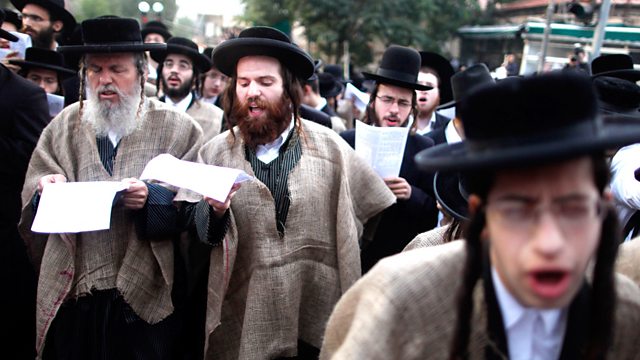 Israel's New Front Line
Israel's ultra-Orthodox Jews have been exempt from conscription, but now that could change. Linda Pressly investigates how the issue is exposing deep faultlines in Israeli society.
When Israel was established, its tiny community of ultra-Orthodox Jews were, uniquely, exempted from the normal requirement of service in the Israeli Defence Force. They were seen as keepers of the spiritual soul of the nation, and their vital duty of studying religion and Jewish law was more important than wielding guns. 70 years on, and the community's numbers have grown massively - and there are increasing demands for the ultra-Orthodox to play their part in the defence of the nation. A Supreme Court decision which has cleared the way for the drafting of all Jewish citizens reaching the age of eighteen has divided the coalition government and led to furious rows.
Linda Pressly investigates how conscription is exposing deep faultlines among Israeli Jews. Secular and mainstream religious Jews increasingly see the ultra-Orthodox as a drain on the Israeli state, and resent this community ruthlessly exploiting their political power. Meanwhile the ultra-Orthodox see themselves as fulfilling a sacred duty which lies above the day-to-day considerations of politics or defence. Can the rifts be healed - or will Israeli society become irrevocably split?
Producer: Mark Savage.
Last on

Gabriel Gatehouse investigates the mysterious disappearance of Dirar Abu Sisi.

The unfolding Egyptian revolution through the eyes of five extraordinary women.
Broadcasts