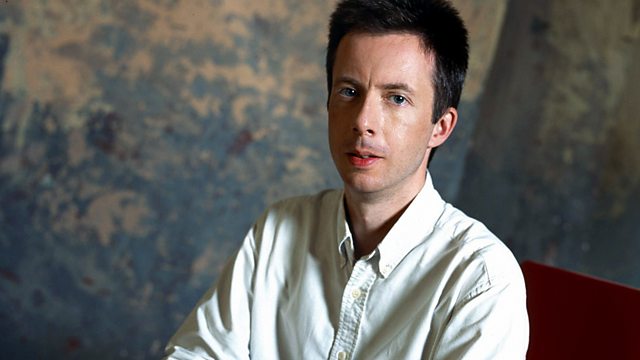 07/09/2012
John Shea presents a concert given by the Danish National Symphony Orchestra featuring two Schubert symphonies and Beethoven's 2nd Piano Concerto with soloist Simone Dinnerstein.
12:31 AM
Schubert, Franz [1797-1828]
Symphony no. 3 in D major D.200
Danish National Symphony Orchestra, Mario Venzago (conductor)
12:53 AM
Beethoven, Ludwig van [1770 -1827]
Concerto no. 2 in B flat major Op.19 for piano and orchestra
Simone Dinnerstein (piano), Danish National Symphony Orchestra, Mario Venzago (conductor)
1:23 AM
Schumann, Robert [1810-1856]
No.1 from Kinderszenen Op.15 for piano
Simone Dinnerstein (piano)
1:25 AM
Schubert, Franz [1797-1828]
Symphony no. 8 in B minor, compl. Brian Newbould
Simone Dinnerstein (piano), Danish National Symphony Orchestra, Mario Venzago (conductor)
2:07 AM
Brahms, Johannes (1833-1897)
Neue Liebeslieder - waltzes for voices & piano duet (Op.65)
Anna-Maria Miranda (soprano), Clara Wirtz (alto), Jean-Claude Orleac (tenor), Udo Reinemann (baritone), Noël Lee & Christian Ivaldi (piano)
2:31 AM
Delius, Frederick (1862-1934)
Violin Concerto
Philippe Djokic (violin), Symphony Nova Scotia, Georg Tintner (conductor)
2:59 AM
Telemann, Georg Philipp (1681-1767)
Sonata for recorder and continuo (TWV.41:C2) in C major (from Der getrue Music-Meister, 1728-29)
Camerata Köln
3:06 AM
Liszt, Franz (1811-1886)
Piano Sonata in B minor (S.178)
Yuri Boukoff (piano)
3:35 AM
Trad (arr. Michael Hurst)
Ten Thousand Miles Away
West Australian Symphony Orchestra, David Measham (conductor)
3:42 AM
Moszkowski, Moritz (1854-1925)
Romance sans Paroles
David Drury (William Hill and Son organ of Sydney town Hall, Australia)
3:46 AM
Vivaldi, Antonio (1678-1741)
Concerto for 2 trumpets and orchestra in C major (RV.537)
Toni Grcar and Stanko Arnold (trumpets), Slovenian Radio and Television Symphony Orchestra, Marko Munih (conductor)
3:53 AM
Grieg, Edvard (1843-1907)
In Autumn, Overture (Op.11)
Orchestre National de France, Osmo Vänskä (conductor)
4:06 AM
Saint-Saëns, Camille (1835-1921)
Danse macabre - symphonic poem trans. for piano
Eugen d'Albert (piano)
4:14 AM
Ibert, Jacques [1890-1962]
Trio for violin, cello and harp
András Ligeti (violin), Idilko Radi (cello), Eva Maros (harp)
4:31 AM
Strauss, Johann II (1825-1899)
Wienerblut (waltz) (Op.354)
Danish Radio Concert Orchestra, Borge Wagner (conductor)
4:41 AM
Albéniz, Isaac (1860-1909)
Cordoba - from Cantos de Espana (Op.232 No.4)
Eolina Quartet
4:47 AM
Anon (15th century Italy)
A Florence la joyose cite - for portative organ, lute, bass recorder and female voice
Ensemble Claude-Gervaise, Gilles Plante (director)
4:50 AM
Villa-Lobos, Heitor [1887-1959]
Kyrie and Gloria from 'Missa Sao Sebastiao'
Danish National Girls Choir, Michael Bojesen (conductor)
5:02 AM
Haydn, Joseph (1732-1809)
Symphony No.104 in D major (H.1.104) 'London'
Bergen Philharmonic Orchestra, Philippe Entremont (Conductor)
5:30 AM
Stenhammar, Wilhelm (1871-1927)
Four Stockholmsdikter (4 Stockholm poems) vers. for voice and piano (Op.38)
Karl-Magnus Fredriksson (baritone), Stefan Nilsson (piano)
5:41 AM
Antonello da Caserta
Dame d'onour (ballade, 41v) from the Manuscript of Modena
Mala Punica
5:55 AM
Delibes, Leo [1836-1891]
Les Filles de Cadix
Eir Inderhaug (soprano), Norwegian Radio Orchestra, Antoni Ros-Marbà (conductor)
6:01 AM
Liszt, Franz (1811-1886)
Tarantella from Venezia e Napoli (S.162)
Janina Fialkowska (piano)
6:10 AM
Gershwin, George (1898-1937)
An American in Paris
Melbourne Symphony Orchestra, Jorge Mester (conductor).
Last on