Main content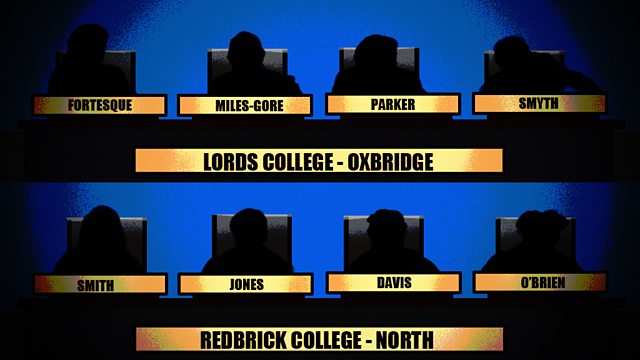 Your Starter for Ten: 50 Years of University Challenge
Mark Damazer explores the history of his favourite TV quiz show. With Bamber Gascoigne and Jeremy Paxman. From August 2012.
Fifty years after episode one was shown on ITV, the geek fest that is University Challenge has not only survived but also flourished.
In this Archive on 4, former Radio 4 controller now Master of St Peter's college Oxford, Mark Damazer, pays tribute to his favourite quiz.
Delving into its history he uncovers a programme that began against the backdrop of a shake up in Britain's university system and came from the entrepreneurial spirit of Manchester's Granada studios.
Mark meets former contestants like Gail Trimble, Sean Blanchflower and Luke Pitcher who have all won the coveted University Challenge title. Through personal anecdotes from the archives from Bamber Gascoigne and in a new interview with Jeremy Paxman, Mark discovers how competing students have, across the decades, delighted its hosts.
Mark Thompson and ITV's John Whiston debate how University Challenge works as piece of television and why it has endured for half a century.
The show has ever been controversial. In a protest about Oxbridge being allowed to enter so many college teams, Manchester University, which included future broadcaster David Aaronovitch, answered most of the questions with silly answers. David tells Mark why he regretted taking his place on the team. Quentin Smith, now a lawyer, was the man behind the Manchester University controversy and tells his version of the story for the first time.
There are also plenty of starters for ten: What sort of brain do you need to be good at it? Has it got deliberately easier or harder? And how do you put together the best team? Answers will be revealed in this loving homage to one of Britain's most admired television shows.
Produced by: Jo Meek
A Sparklab production for BBC Radio 4.
More about the academic quiz show that features teams of students from UK universities.