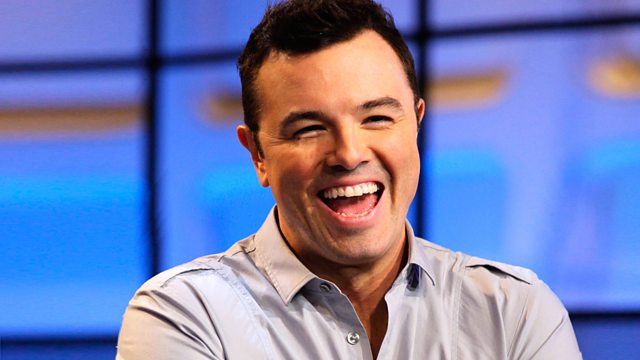 Seth MacFarlane, Delilah, Nikki Bedi, Dom Joly, Adil Ray and Amy Shindler
Nikki chats to Family Guy and masterful crooner, Seth MacFarlane; the multi-talented comedy writer and performer who is not only singing with the John Wilson Orchestra at the Proms on August 27th but also has a new album out on the same day - 'Music is Better Than Words'. But is it? Nikki finds out.
The Loose Ends studio steams up with the writer and actress, Amy Shindler. Perhaps most well-known to Radio 4 listeners for her role as Brenda Tucker in 'The Archers', Amy is also a co-author of a spin-off of 'Fifty Shades of Grey' - 'Fifty Shelves of Grey' - a brilliantly funny collection of literary classics, artfully condensed and erotically remastered. 'Jane Eyre' will never be the same again...
Jon is introduced to the comedian and presenter, Adil Ray, otherwise known as Mr Khan - the self-appointed Muslim community leader and star of a new BBC One sitcom, 'Citizen Khan'. Set in the capital of British Pakistan, Sparkhill, Birmingham, the series follows the trials and tribulations of Mr Khan and his long-suffering family. The first episode is broadcast on Monday 27th August at 10.20pm.
Does the Abominable Snowman really exist? Nikki meets comedian turned professional Monster Hunter, Dom Joly, to talk about his new book 'Scary Monsters and Super Creeps', the product of months of outlandish expeditions across the globe in search of such elusive creatures as the Hibagon in Japan and the Ogopogo in Canada.
With music from the trip-hop inspired soulful pop princess, Delilah, who sings her new single 'Shades of Grey' from her Top 5 debut album 'From The Roots Up'.
And five-piece London folk-rock group 'Dry The River' perform 'Bible Belt' from their recently released debut album 'Shallow Bed'.
Producer: Cathie Mahoney.
Last on
Listen to Loose Ends anytime, anywhere.