Main content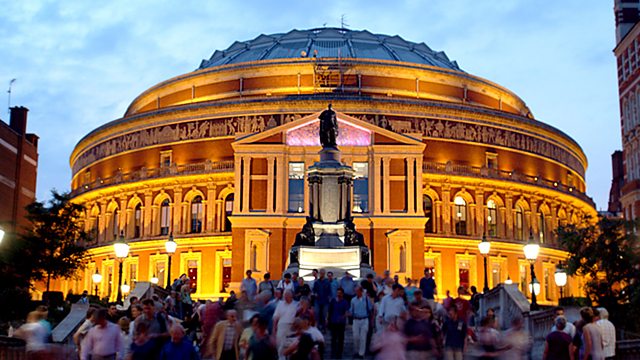 Live from the Royal Albert Hall. Martin Handley presents a concert performance of Act 2 of Britten's opera Peter Grimes. Edward Gardner conducts the ENO Chorus and Orchestra.
Live from the Royal Albert Hall, London
Presented by Martin Handley
English National Opera, conducted by Edward Gardner, performs one of the greatest of all English operas. Australian tenor Stuart Skelton sings the title role of the unpredictable fisherman, Peter Grimes, an outsider in a closed Suffolk community. Only the schoolteacher Ellen Orford and the old sea captain Balstrode treat Grimes like a normal human being. But will their friendship be enough to defend him when local hostility boils over into virtual mob rule?
English National Opera's revolutionary 2009 production of Britten's Peter Grimes revealed a side of the opera few had suspected. Not just one of the greatest of all English operas, but a masterpiece in a great European tradition - with musical echoes of Berg and German Expressionism. As the conductor, ENO's Music Director Edward Gardner, puts it: 'Grimes has a freedom, a strength and an emotionally connected, visceral quality that I don't think Britten ever quite recaptured - it's a piece that, at its best, feels unshackled and dangerous, and very un-English. That's why I rate it so highly.'
Tonight at the Royal Albert Hall you can hear precisely what he means - as ENO reunite their cast for one night only at the BBC Proms.
Britten: Peter Grimes - Act 2
Stuart Skelton .... Peter Grimes (tenor)
Amanda Roocroft .... Ellen Orford (soprano)
Iain Paterson .... Balstrode (bass-baritone)
Rebecca de Pont Davies .... Auntie (mezzo-soprano)
Mark Richardson .... Swallow (baritone)
Leigh Melrose .... Ned Keene (baritone)
Michael Colvin .... Bob Boles (tenor)
Felicity Palmer .... Mrs Sedley (mezzo-soprano)
Gillian Ramm .... 1st Niece (soprano)
Mairead Buicke .... 2nd Niece (soprano)
Darren Jeffery .... Hobson (bass-baritone)
Stuart Kale .... Revd Horace Adams (tenor)
Jacob Mason-White .... John (apprentice)
ENO Chorus and Orchestra
Edward Gardner (conductor).