Main content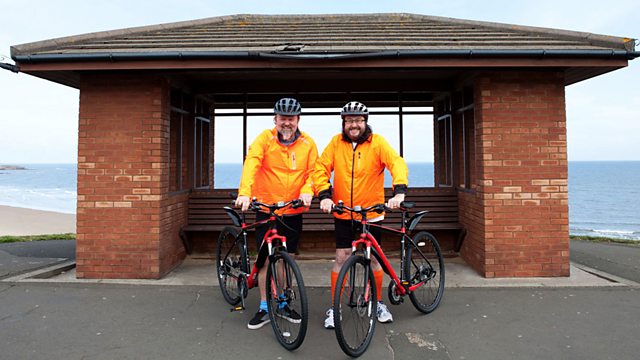 Simon King and Dave Myers embark on a weight-loss campaign. The pair attempt to reinvent a cooked breakfast, a roast chicken dinner, and a French cassoulet.
In this new series, the Hairy Bikers become the Hairy Dieters as they accept that years of overindulgence has taken its toll. But the boys are determined to still love their food and lose weight, which means confronting some truths about themselves and what they normally eat.
The pie is the comfort food of choice of so many of us and Ann Adlington, one of the gastonomes who have joined the Bikers on their low-cal adventure, is no exception. She works out of doors and reveals her penchant for chocolates and crisps. She needs a pie that will help her shift the pounds and come in under the 700 calories in a standard pork pie. As pie-men of distinction, the Bikers devise a tasty pastry treat that has this Big Eater enraptured.
The duo have managed to resist temptation themselves. They learn that their own internal, visceral fat is burning away but Dr. Roy Taylor of Newcastle University warns that to keep losing weight they'll need to reduce their calorie intake further and try to survive on just 1200 a day. To speed the process, it's time for more exercise and the hardest cut of all - swapping their motorbikes for push bikes.
Cyclists Si and Dave re-design the picnic before arriving in Windermere, where they pass a high street gauntlet of take-away opportunities. Can they rework the nation's favourite calorie-laden dishes? Putting their money where their mouths are, they take over Chinese and Indian restaurants in Dave's home town of Barrow, and try to convince punters that Sweet and Sour Chicken and Chicken Korma can be even better - and just as mouthwatering - for having deliciously dangerous elements removed.
Clips

Credits
| Role | Contributor |
| --- | --- |
| Presenter | Simon King |
| Presenter | Dave Myers |
| Presenter | Dave Myers |
| Executive Producer | Nicola Moody |
| Executive Producer | Nicola Moody |
| Director | Ian Denyer |
| Director | Ian Denyer |
| Series Producer | Ian Denyer |
| Series Producer | Ian Denyer |