Main content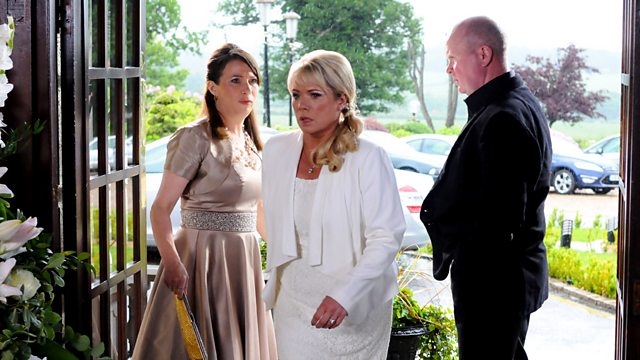 13/08/2012
Sharon begs Phil to help her as she tells him that she needs to get to her son, Dennis. Shirley makes a horrifying discovery, which could finally lead her to Heather's killer.
Sharon tearfully implores Phil for help; she's walked out on her wedding and left her son, Dennis. Phil sets out with Sharon, who explains she met her ex-fiancé, John, 6 months ago but doesn't love him. At the wedding reception, Sharon's relieved to find Dennis waiting with John and his sister, Nina. Sharon hurriedly packs a bag, but reluctantly agrees to talk with John. John's seethes that he's given Sharon everything and wants to know if Phil's aware of her dirty secret. Phil intervenes. John storms out. Sharon's horrified as she and Phil emerge from the reception to see John's car racing off with Dennis inside, screaming for Sharon.
Jean's concerned that Ian left the Vic without confiding in her. Shirley feigns indifference when Denise divulges she's spoken to Carly on her behalf, and coaxes Ian home to get cleaned up. Billy fills Roxy in on Sharon and Phil's past. Ben's awkward as Shirley speculates about what could've driven Ian away. Shirley runs Ian a bath and helps him shave. Ben firmly tells Ian he needs to go home – he won't have Ian ruining everything. Shirley reconsiders and visits Denise to see photos of Carly's baby. She's astounded to spot the Best Friends photo frame on the mantelpiece.
Janine's rocked by Kat's revelation and later watches Michael through Butcher's Joints' window. Seeing him pocket some petty cash, she throws him out. In the Vic, Michael vents to Kat, who guiltily admits her faux pas. Michael denies Janine's accusations but declares if she can't trust him, it's over.
Bobby's surprised to see Ian. Lucy hurries Bobby away, insisting Ian can't come home as he's not well.
Lola kisses Jay as she watches him with Lexi. Jay agrees to take things slowly but is thrown into turmoil when Tanya tells him Abi's home soon.
Music Played
Timings (where shown) are from the start of the programme in hours and minutes
Credits
| Role | Contributor |
| --- | --- |
| Dennis Rickman | Harry Hickles |
| Sharon Rickman | Letitia Dean |
| Phil Mitchell | Steve McFadden |
| Nina Hewland | Juliet Cowan |
| Shirley Carter | Linda Henry |
| Ian Beale | Adam Woodyatt |
| Ben Mitchell | Joshua Pascoe |
| Jay Mitchell | Jamie Borthwick |
| Lola Pearce | Danielle Harold |
| Billy Mitchell | Perry Fenwick |
| Janine Butcher | Charlie Brooks |
| Michael Moon | Steve John Shepherd |
| Kat Moon | Jessie Wallace |
| Alfie Moon | Shane Richie |
| Lucy Beale | Hetti Bywater |
| Denise Fox | Diane Parish |
| Jean Slater | Gillian Wright |
| Mo Harris | Laila Morse |
| Roxy Mitchell | Rita Simons |
| Tanya Cross | Jo Joyner |
| Patrick Trueman | Rudolph Walker |
| Kim Fox | Tameka Empson |
| Executive Producer | Lorraine Newman |
| Director | Nic Phillips |
| Writer | Daisy Coulam |