Main content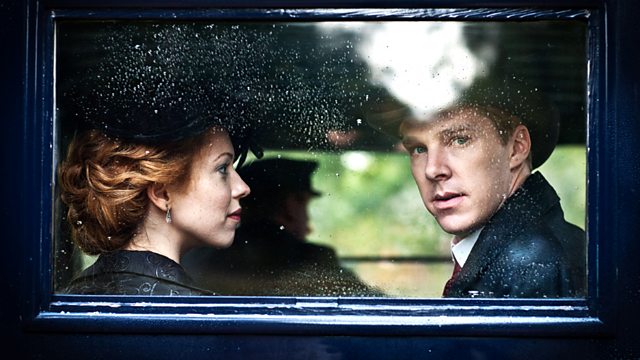 18/08/2012
Bidisha and guests review the week's cultural events including Parade's End, starring Benedict Cumberbatch and Rebecca Hall and adapted for BBC Television by Sir Tom Stoppard.
Bidisha and guests Dreda Say Mitchell, Maeve Kennedy and Cahal Dallat review the week's cultural events including BBC Two's new drama serial Parades End starring Benedict Cumberbatch and Rebecca Hall and Alan Ayckbourn's new comedy Surprises which opens at Chichester Festival Theatre this week.
Ford Maddox Ford's key modernist novel Parades End, published as a series of four books between 1924 and 1928, is adapted for BBC television by Britain's foremost playwright, Sir Tom Stoppard, the first television drama he has written in almost 30 years. With a stellar cast including Benedict Cumberbatch, Rebecca Hall, Stephen Graham, Rupert Everett, Miranda Richards and Anne-Marie Duff, Parades End explores a formative period of British history - from the twilight years of the Edwardian era to the end of the First World War.
Naomi Alderman follows well trodden literary footsteps from Norman Mailer to Robert Graves in re-telling the story of Jesus Christ in her third novel The Liars' Gospel. Her narrators are Mary / Miryam, Iehuda of Qeriot / Judas, Caiaphas - the High Priest of the Temple and Bar Avo / Barrabas. Her first novel - Disobedience - won the Orange Prize for New Writing. How will her prose match up to telling one of the most well known stories in the world?
Take This Waltz stars Michelle Williams, whose previous films include My Week With Marilyn, Blue Valentine and Brokeback Mountain and is directed by Sarah Polley whose last film, Academy Award nominated Away From Her, starred Julie Christie as an older woman suffering from dementia. This film explores the age old question of what long term relationships do to love, sex and our images of ourselves.
Alan Ayckbourn explores the impact of long term relationships on love and sex in his new play - his 76th - Surprises which opens in a double bill with Absurd Person Singular at the Chichester Festival Theatre this week. Like Comic Potential he sets this play in the future in which humans have the ability to time travel and thus shape their own destiny. There are also robots, and much humour is derived from an android - Gorman - who develops the capacity for human emotion, played to great effect by Richard Stacey.
And seven years since the release of Ry Cooder's last ground breaking album - Chavez Ravine - the election of a new US President is marked by Cooder with the release of a new album - Election Special. Tracks such as Mutt Romney Blues, Guantanamo and The Wall Street Part of Town explore themes which resonate strongly in America and resurrects a genre now out of fashion - the protest song. Will we all be marching along?
Producer: Hilary Dunn.
Subscribe to the Saturday Review podcast
Podcast
Sharp, critical discussion of the week's cultural events, with Tom Sutcliffe and guests