Main content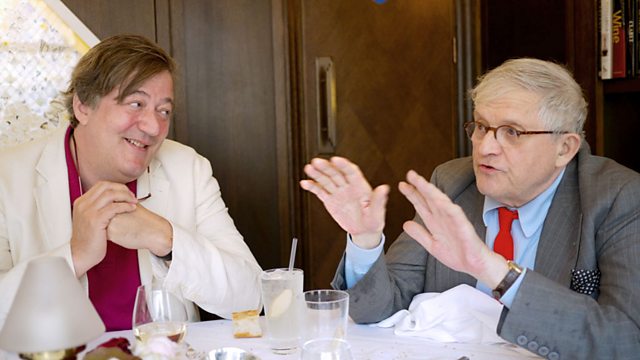 4 Extra Debut. Stephen Fry talks to David Hockney about how we see and describe colour, and how it can shed light on the way language works. From August 2012.
David Hockney rightly observes to Stephen Fry that it feels odd to be making a programme about colour on the radio. In a way, that's the point. Colour is subjective and emotive. The very phrase "colourful language" is a metaphor for vividness. But, until quite recently, we've been confused about how colour language developed. A discovery by statesman William Gladstone, who was also a Homer expert, led to a staggeringly wrongheaded theory. Gladstone helped show that most ancient cultures didn't have a word for blue. As a result, it was concluded that the ancients had under-developed colour vision. The reality was that they had under-developed vocabularies.
We meet a man who sees no colour but hears it electronically and can "name" colours with audio signals. We also hear from the head of colour marketing at Dulux paints whose job it is to find new words for new colours. And a bilingual woman says she might think differently about colour depending on which language she's using. The conclusion - how we see colour and how we describe it can shed light onto how language works.
Produced by Nick Baker
A Testbed production for BBC Radio 4.
More episodes
Previous
You are at the first episode