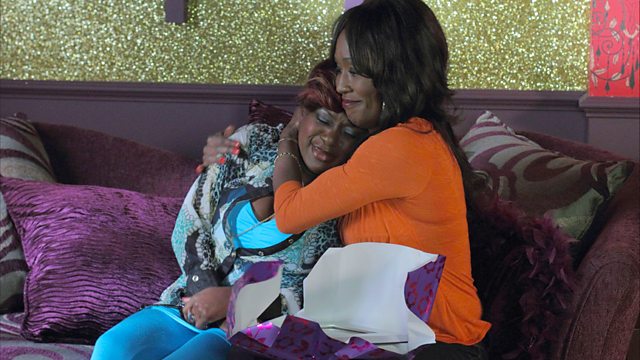 07/08/2012
Ray tells a mystery caller he'll meet her there at the same time as Kat's on the phone arranging to meet her lover. Kat heads out, claiming she's going shopping. Kim and Denise argue after Denise doubts that Ray's going to ask Kim to live with him. Ray returns to the Vic shortly after Kat. Kim's mortified when Ray reveals the new flat's for his ex, Deanne. Ray walks in on Kat while she's on the phone to her lover; it can't be him. At the B&B, Denise opens a present from Kim; it's a photo of them both in the 'Best Friends' photo frame...
Jay can't handle being around Ian. Ian again reacts when Shirley talks about Heather, but Shirley presumes it's because she mentioned Lucy. Ben takes Ian to Arthur's bench and the stall. Seeing Andrew, Ian utters the word 'Dot'. After Lucy screams at him to get out of the café, Ian breaks down on the pavement, sobbing. Ben and Jay take Ian home. Phil's furious with Ben for taking Ian outside – Ian staying in his current state is the price of their freedom...
Janine and Michael bring Scarlett home. Terrified, Janine doesn't appear to notice the effort Michael's made in the house. She makes Michael get rid of Alfie, Tyler and Anthony when they visit and calls the nurse about Scarlett, ignoring Michael's opinion. Fed up, Michael leaves Janine to deal with Jean when she comes to apologise. Janine confesses she thinks Scarlett's too perfect for them, Jean warns her she and Michael must stop playing games. When Michael eventually comes home Janine apologises and hugs him.
Lucy's looking forward to the community cook off. Fat Boy's desperate to secure a promotion at McKlunky's and Max's careers advice leads to him giving Nico Lauren's phone number.
Last on
Credits
| Role | Contributor |
| --- | --- |
| Phil Mitchell | Steve McFadden |
| Ben Mitchell | Joshua Pascoe |
| Ian Beale | Adam Woodyatt |
| Janine Butcher | Charlie Brooks |
| Michael Moon | Steve John Shepherd |
| Kat Moon | Jessie Wallace |
| Alfie Moon | Shane Richie |
| Jean Slater | Gillian Wright |
| Ray Dixon | Chucky Venn |
| Kim Fox | Tameka Empson |
| Denise Fox | Diane Parish |
| Patrick Trueman | Rudolph Walker |
| Lucy Beale | Hetti Bywater |
| Joey Branning | David Witts |
| Lauren Branning | Jacqueline Jossa |
| Max Branning | Jake Wood |
| Arthur 'Fat Boy' Chubb | Ricky Norwood |
| Christian Clarke | John Partridge |
| Shirley Carter | Linda Henry |
| Jay Mitchell | Jamie Borthwick |
| Tyler Moon | Tony Discipline |
| Mo Harris | Laila Morse |
| Andrew Cotton | Ricky Grover |
| Executive Producer | Lorraine Newman |
| Director | Michael Owen Morris |
| Writer | Lauren Klee |