Main content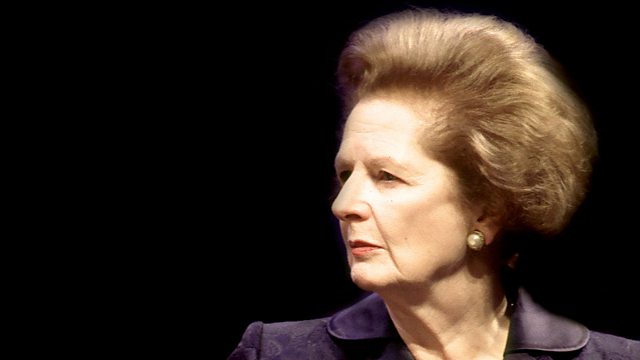 Margaret Thatcher
James Naughtie on the longest-serving prime minister of the 20th century, whose policies earned her the nickname 'The Iron Lady'.
The New Elizabethans. Margaret Thatcher, politician.
James Naughtie considers the lasting influence of Margaret Thatcher, the longest serving Prime Minister of the 20th Century and the only woman to hold the post. Her uncompromising policies and leadership style earned her the enduring nickname "The Iron Lady".
Among her initiatives were the deregulation of the financial sector, the privatisation of state-owned companies, and the reduction of the power and influence of trade unions, policies that have become known as "Thatcherism".
The New Elizabethans have been chosen by a panel of leading historians, chaired by Lord (Tony) Hall, Chief Executive of London's Royal Opera House. The panellists were Dominic Sandbrook, Bamber Gascoigne, Sally Alexander, Jonathan Agar, Maria Misra and Sir Max Hastings.
They were asked to choose: "Men and women whose actions during the reign of Elizabeth II have had a significant impact on lives in these islands and/or given the age its character, for better or worse.".
Roy Plomley's castaway is Leader of the Opposition the Rt Hon Margaret Thatcher.

Extended World At One with reaction to the death of Baroness Thatcher on 8th April 2013.

Andrew Marr and Peter Hitchens, Margot James, Douglas Murray and Thomas Frank.
Archive Material used in the programme
Margaret Thatcher on Desert Island Discs
, Sat 18th Feb 1978.
BBC News Footage, broadcast the day of Thatcher's first election, 4th May 1979
Lady's not for turning speech, from the 1980 Conservative Party Conference, broadcast October 10th, 1980
Interview with Robin Day, in a BBC Panorama special broadcast 8th June 1987.
Margaret Thatcher's "no, no, no!" response to European Summit to the Commons, broadcast 30th October 1990
Margaret Thatcher's response to the Falklands War, BBC News Footage broadcast 25th April 1982
Margaret Thatcher's first interview following winning the leadership, and news footage of her starting her first day as conservative leader come from the 2008 BBC Four programme The Making of the Iron Lady. The "Iron Lady of the Western World" speech, to Finchley Conservatives in 1976, also comes from this programme.
Sir Geoffrey Howe's resignation speech to the Commons, broadcast 1st November 1990.
Extracts from the 1979 Conservative election broadcasts taken from the Margaret Thatcher Foundation website.
Audio of Poll Tax riots taken from LWT News Report, broadcast 31st March, 1990.
Reading List

Margaret Thatcher: The Downing Street Years

Geoffrey Howe: Conflict of Loyalty

Nigel Lawson: The view from Number 11

Michael Heseltine: Life in the Jungle


Baroness Thatcher: 1925 - 2013
Podcast
James Naughtie profiles 60 public figures nominated to mark the diamond jubilee