Main content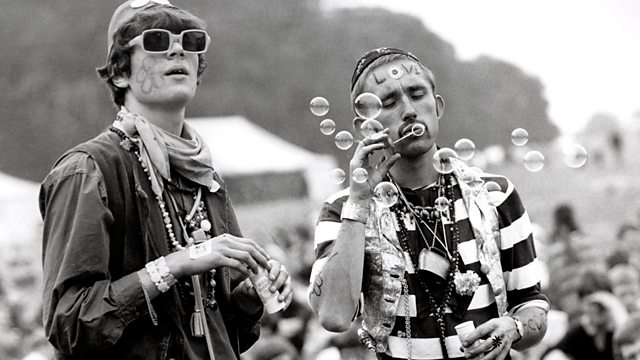 Whiter Shade of Pale - Britain Skips the Light Fandango
Stuart Maconie travels back to the '60s and the infamous 'Summer of Love'. Was Britain really changed by the influence of hippies and drug culture? He talks to those who were there
This was Britain's first gentle whiff of drug culture in pop music. Those heady sights, smells and sounds of what later became known as the Summer Of Love, were first and best encapsulated on this side of the Atlantic by Procol Harum's hit. It would prove to be a summer which burned long and bright and which heralded a significant change in the look, sound and mood of pop culture.
The Summer Of Love had its roots in the American Beat Culture of the 1950s and in writers like Allen Ginsburg, Jack Kerouac and William Burroughs. The concepts of free love, liberal politics, casual drug use, communal living and opposition to the Vietnam War were at its core. Slowly the culture had infiltrated first the West Coast music scene and then more popular culture.
Ironically, by the time the hippie ideals had crossed the Atlantic, much of America was burning; race riots and heavy handed police reaction to marches and demonstrations had scarred many cities. But in London, everything was just groovy. Hair was worn a little longer, beads were sported and flowers waved about. Legend has it The Beatles were introduced to marijuana by Bob Dylan in 1964. There was even whispered talk of "revolution".
A Whiter Shade Of Pale was the debut single from Procol Harum, which went to number one in the UK, number five in the USA, is one of 30 singles that has sold more than 10 million copies, and which has been covered more than 1000 times. Not bad for a new band. It's widely thought that the song is about a drunken sexual seduction, so whilst it's not overtly about altered states, its sense of intoxication and trippiness captured the mood of the era.
In this episode, Stuart examines the realities of 'Summer of Love' and what this infamous period really meant for most Britons. We want to talk to those who remember it well...and those who don't!
Did you wear flowers in your hair back in the '60s? Not everyone did...
Share your comments and stories
Your contributions will play a key part in this episode, take a look at the questions below and send us your thoughts:
What do you remember about the hippies and the Summer Of Love? Did it affect you?
Were you or your friends hippies? Did you wear flowers in your hair?
Were you appalled by the talk of free love and drugs?
Do you think this the greatest time for music in Britain?