Main content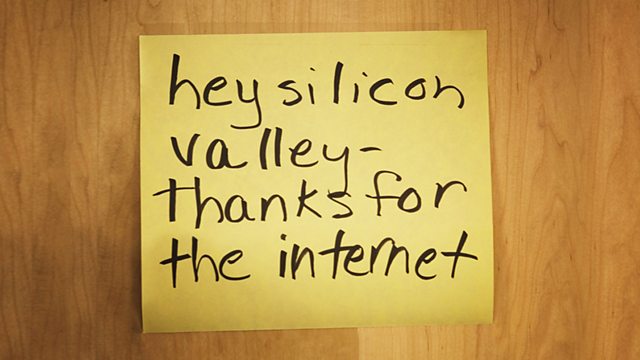 When Andrew Blum's internet stops working one winter, he embarks on a journey of discovery to find out how it all works. His first stop is California, where it all began.
Written by Andrew Blum.
You write an email. You hit send. It appears ten thousand miles away. How did that happen?
In April 2011, a seventy-five year old woman deprived Armenia of its Internet access when she sliced through a buried cable with her garden spade. That January, Egyptian authorities simply switched off 70% of the country's Internet connections in an attempt to quell a revolution. In 2009, a squirrel chewed through a wire in Andrew Blum's backyard, slowing his broadband to a trickle and catapulting him on a quest to find out what this so-called 'Internet' actually is.
This is the Internet as you've never seen it before. It's not a concept. It's not a culture. It's most certainly not a cloud. It's a mass of tubes.
But what tubes! Hundreds of thousands of miles of fibre-optic cable, criss-crossing the globe, pulsing with trillions of photons of light, linking us via anonymous exchanges in secretive locations with vast data-warehouses where our online selves are stored in banks of spinning hard-drives.
In Tubes, Andrew Blum takes us behind the scenes of this hidden world and introduces us to the remarkable clan of insiders and eccentrics who design and run it everyday. He explains where it is, how it got there, what it looks like, how it works - and what happens when it breaks.
Reader: John Schwab
Abridger: Libby Spurrier
Producer: Joanna Green
A Pier production for BBC Radio 4.
Last on
More episodes
Previous
You are at the first episode
Broadcasts