Main content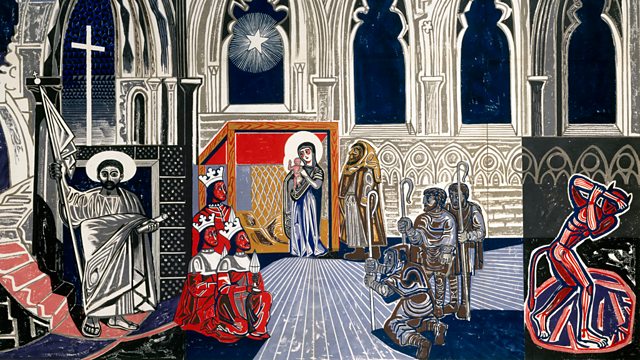 Mysteries from the Past
Revived in 1951, John Godber explores the history and performances of York's Medieval Mystery Plays. From 2012.
A new outdoor production of the medieval York Cycle of Mystery Plays opened in 2012.
It starred Ferdinand Kingsley as Jesus and Graeme Hawley as the devil, with a community cast and crew of over 500 people.
The revival of these plays first took place as part of 1951's Festival of Britain and were staged, like the 2012 production, against the backdrop of the ruined St Mary's Abbey in the Museum Gardens.
The York Mystery Plays are the most complete cycle telling stories from the bible in 48 separate plays each one originally performed by one of the city's medieval guilds. Staged on the back of waggons at various locations around the city the plays were performed on Corpus Christi Day from around 1390 until 1575 and took all day to perform. Since 1951 the plays were staged every three or four years until 2000 when the last full-scale production took place in York Minster directed by the RSC's Gregory Doran.
Playwright John Godber takes to the medieval streets of York to look back at how these 'modern-day' performances relate to the original ideas behind the plays of communicating bible stories to the illiterate masses.
Examining archive material including medieval manuscripts and recordings of the some of the productions, he talks to experts in medieval drama and some of the people involved in past productions which have launched the careers of actors Judi Dench, David Bradley and Mary Ure.
Productions have not been without controversy - such as casting a women as God or having Hindu actor, Victor Banerjee, playing Christ - guaranteeing publicity for these adventures in major community theatre production.
Producer: Andy Cartwright
A Soundscape production for BBC Radio 4, first broadcast in August 2012.
Last on
Broadcasts