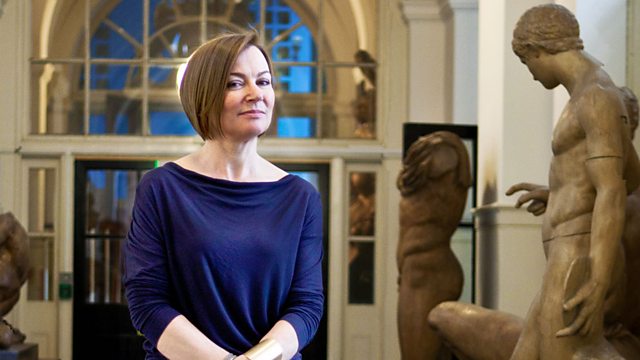 Amanda Vickery visits Pembroke Castle with historian Tom Asbridge. The man who built the castle was seen as the perfect knight, an example men tried to emulate for centuries.
Amanda Vickery explores the history of masculinity through six different archetypes of the ideal man, archetypes which still have an echo today.
The history of men and masculinity is now at the cutting edge of scholarship. In conversation with historians, Professor Vickery asks: Where did these ideals of how men should behave come from? How influential were they on the lives and careers of real men? And what did women make of them?
The series begins in the Middle Ages and ends in the 1950s. It explores The Knight, The Gentleman, The Lover, The Sailor, The Explorer, and The Suit.
This first programme, The Knight, begins on location in Pembroke Castle with crusader historian Tom Asbridge. He reveals how the man who built it, William Marshal, came to be seen as the perfect knight, an example men tried to emulate for centuries. Marshal is fascinating to historians because he is the first ordinary man to have had a biography written about him - but the cold ruthless warrior the biography reveals is at odds with our Hollywood idea of chivalry.
Knights were the professional footballers of their day. They could rise socially and accumulate princely wealth through lithe horsemanship and prowess in the joust, but they also composed love songs and sang the blues.
Cultural historian Bill Burgwinkle introduces some revealing songs which suggest there was a strong homosexual subculture among knights. And medieval historian Helen Castor uncovers manuscript evidence of the struggle (personal and financial) ordinary gentlemen faced to live up to the exacting ideal.
Amanda Vickery is Professor of Early Modern History at Queen Mary, University of London.
Producer: Elizabeth Burke
A Loftus production for BBC Radio 4.
More episodes
Previous
You are at the first episode