Main content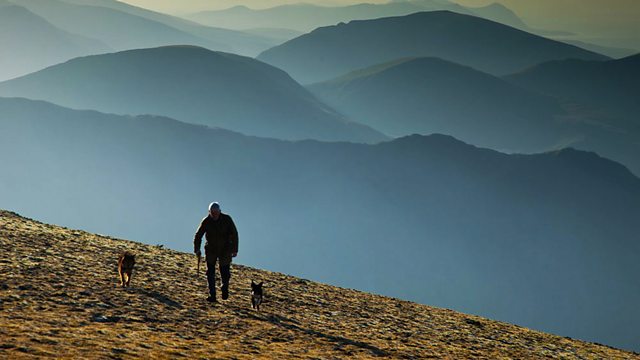 A farmer, a National Park warden, a climber and a poet guide us through one year amid the dramatic wilderness of Snowdonia.
The breathtaking landscapes and spectacular wildlife of Snowdonia National Park, seen through the eyes of people who know it best.
Snowdonia is Wales's most dramatic wild place and one of the most beautiful and best-loved in the whole of Britain. It's a land of extinct volcanoes surrounded by the Irish Sea, a spellbinding landscape whose peaks are some of the most ancient on the planet and whose valleys are a refuge for rare and fascinating wildlife including otters, hen harriers and peregrine falcons. This film follows a farmer, a National Park warden, a climber and a poet throughout the year and, through their intimate knowledge of Snowdonia, explores the nature of wilderness in modern Britain.
More episodes
Previous
You are at the first episode
Living in Snowdonia
As it becomes harder to make a living in Snowdonia, fewer local people are farming and there's been a huge loss of knowledge about living in these mountains. The low price of lamb and wool is making it increasingly hard for the shepherds, and more communities are now reliant on Snowdonia's huge influx of summer visitors in order to survive. 

It takes a lifetime of experience to learn how to farm in harmony with the landscape and wildlife in the mountains of Snowdonia. Three quarters of North Wales is devoted to farm land. Though the number of farmers who can make a living from it falls year-on-year. There will come a time when Britain needs farmers like Gwynn Thomas to feed our crowded island. So we can't afford to lose their knowledge.
A delicate ecosystem
North Wales is the most diverse lichen environment on Earth due to its clean air and proximity to the sea.  Lichens are extremely sensitive to air pollution and after the industrial revolution they have become increasingly rare across Britain.  Yet the wet autumnal conditions in Wales are so perfect that three quarters of all the lichens in Britain can be found here.

Slate quarries and thrill seekers
The slate quarries of North Wales were at one time the biggest on earth. Tens of thousands of men toiled with picks and dynamite to supply the four corners of the world with roofing tiles. Today the old quarries attract adventurous climbers like Johnny Dawes.
Credits
| Role | Contributor |
| --- | --- |
| Narrator | Hermione Norris |
| Participant | Johnny Dawes |
| Participant | Rhys Gwynn |
| Participant | Twm Morys |
| Participant | Gwyn Thomas |
| Producer | Jeff Wilson |