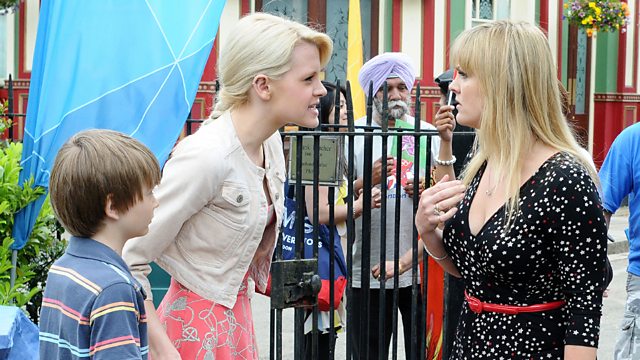 23/07/2012
Alfie negotiates with the train driver while Billy panics. In McKlunky's, Lola doesn't want an ambulance. Cora pursues Jay when he takes blankets for Lola from the charity shop. She initially thinks Lola's faking. Nico's unsympathetic. Cora assumes Jay's the father. Lola insists they're not together. Although the train starts, Billy's waylaid again by police at the tube station. He escapes when Anthony creates a distraction, but can't find his keys. Frantic, Billy rings Lola but gets no answer. Cora coaches Lola through labour. Billy despairs that Lola, Janet and William aren't there. Ben flees McKlunky's, queasy. Lola cries, worried that she can't look after her baby. Cora insists Lola fights for her. Billy smashes his flat window, changes into his Olympic tracksuit, then discovers he's been sent fluffy slippers instead of new trainers. Billy sets off with the torch, cheered by the Square's residents. He completes his run, overwhelmed to see Jean with Janet and William at the finish, and awkwardly kisses her. Billy races to McKlunky's when Fat Boy shouts Lola's in labour. Lola gives birth with Billy by her side.
A man's looking for Ian. Lucy's worried he's a social worker and suspects Tanya's responsible. Tanya's helping Lucy clear up when the man calls again. He's a debt collector, and gives them 48 hours to pay Ian's debt.
At the George St flat, Kat impatiently texts her lover. The football team teases Alfie about Roxy. Back at the Vic, Alfie produces Kat's lover's key, found on the bench. It's left un-claimed. Alfie insists the team stay to support Billy. Jilted, Kat scrawls "big mistake" on the mirror. She's unimpressed to find her potential lovers all still on the Square.
Kim reveals she did shot put when she was sixteen. Tiffany and Morgan arrive to support Billy.
Last on
Credits
| Role | Contributor |
| --- | --- |
| Billy Mitchell | Perry Fenwick |
| Lola Pearce | Danielle Harold |
| Cora Cross | Ann Mitchell |
| Jay Mitchell | Jamie Borthwick |
| Kat Moon | Jessie Wallace |
| Alfie Moon | Shane Richie |
| Jean Slater | Gillian Wright |
| Phil Mitchell | Steve McFadden |
| Shirley Carter | Linda Henry |
| Max Branning | Jake Wood |
| Tanya Cross | Jo Joyner |
| Zainab Khan | Nina Wadia |
| Masood Ahmed | Nitin Ganatra |
| Patrick Trueman | Rudolph Walker |
| Ben Mitchell | Joshua Pascoe |
| Arthur 'Fat Boy' Chubb | Ricky Norwood |
| Denise Fox | Diane Parish |
| Kim Fox | Tameka Empson |
| Roxy Mitchell | Rita Simons |
| Derek Branning | Jamie Foreman |
| Jack Branning | Scott Maslen |
| Michael Moon | Steve John Shepherd |
| Tyler Moon | Tony Discipline |
| Andrew Cotton | Ricky Grover |
| Ray Dixon | Chucky Venn |
| Lucy Beale | Hetti Bywater |
| Lauren Branning | Jacqueline Jossa |
| Whitney Dean | Shona McGarty |
| Mo Harris | Laila Morse |
| Christian Clarke | John Partridge |
| Executive Producer | Lorraine Newman |
| Writer | Matt Evans |
| Tamwar Masood | Himesh Patel |
| Alice Branning | Jasmyn Banks |
| Poppy Meadow | Rachel Bright |
| Morgan Butcher | Devon Higgs |
| Tiffany Butcher | Maisie Smith |