Main content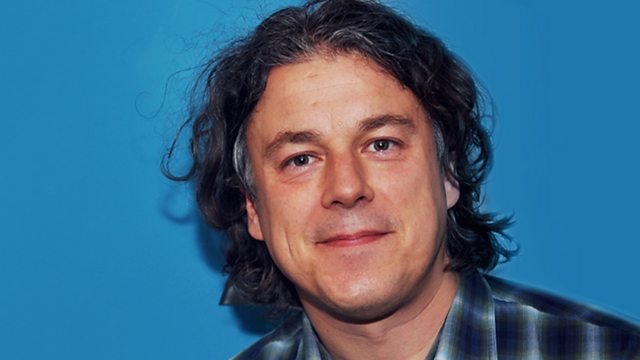 Curious Incident onstage, Alan Davies, Olympic puppeteers
Kirsty Lang meets comedian Alan Davies and reviews a new National Theatre stage version of Mark Haddon's best-selling novel The Curious Incident of the Dog in the Night-Time.
With Kirsty Lang
Alan Davies, QI panellist and star of Jonathan Creek, discusses returning to stand-up after a ten year break. He also talks about coming last on QI, his run-ins with the tabloids and how maturity enables him to perform material based on painful life experiences for the first time
Mark Haddon's best selling book, The Curious Incident Of The Dog In The Night-Time, has been adapted for the stage by playwright Simon Stephens. It stars Luke Treadway as the Aspergic boy in a cast that includes Niamh Cusack and Una Stubbs. Alex Clark reviews
When Danny Boyle conceived the opening ceremony of this year's Olympics, special effects company Artem helped him realise his visions. The 20 metre Voldemort, grinning Cruella de Ville, and smoking chimneys of the industrial revolution were all made by Artem, who also designed a 6 metre tall Lady Godiva, now travelling from Coventry to London as part of the West Midlands' contribution to the Cultural Olympiad. Artem CEO, Mike Kelt, explains how these giant puppets were brought to life and reveals just a little about what to expect at the Olympic closing ceremony
Undefeated is an Oscar-winning documentary following a group of underprivileged school athletes from inner-city Memphis, on and off the football field. Adrian Wootton, Chief Executive of Film London, discusses this take on contemporary America, and the formula behind Oscar-winning documentaries
In celebration of the Olympics, the BBC - in partnership with the Scottish Poetry Library in Edinburgh - has selected and recorded a poem representing every competing country. Each is read by a native of that country who has made their home here in Britain. Every night for the Olympic fortnight FRONT ROW features one of these poems
Producer Nicki Paxman.
Chapters
The Curious Incident Of The Dog In The Night-Time

Alex Clark reviews the stage adaption of The Curious Incident Of The Dog In The Night-Time.

Duration: 05:13

Alan Davies

Interview with comedian Alan Davies.

Duration: 10:30

Mike Kelt

Interview with Mike Kelt, CEO of special effects company Artem.

Duration: 04:43

Undefeated

Adrian Wootton reviews documentary Undefeated.

Duration: 04:28

Olympic Poetry: Venezuela

To mark the Olympics, the BBC and The Scottish Poetry Library has selected and recorded a poem representing every country taking part. Tonight we have the poem representing Venezuela.

Duration: 03:02