Main content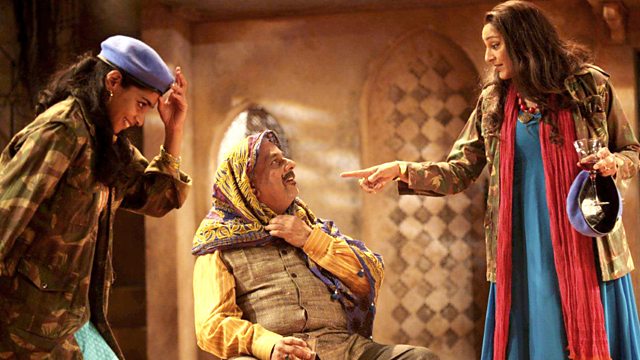 Meera Syal in Much Ado About Nothing
A review of a new RSC staging of Much Ado About Nothing, starring Meera Syal as Beatrice, plus Louise Welsh on her new novel, and a TV documentary about the Amish with Kirsty Lang.
With Kirsty Lang
Meera Syal has made her professional Shakespeare debut playing Beatrice in the RSC's new production of Much Ado About Nothing. Directed by Iqbal Khan, this latest adaptation sets the comedy in modern-day India - with Paul Bhattacharjee playing Benedict. Author Bidisha gives the critical verdict.
Director Lynn Alleway discusses her experiences making a documentary, which follows an Old Order Amish family in America. According to the strict rules of the Amish church, filming is not permitted, so by opening up their homes and life to the cameras Miriam and David risk being ex-communicated and excluded from their society.
Glasgow writer Louise Welsh talks about her latest novel, The Girl on the Stairs, a thriller set in Berlin - and also about the libretto she's written for a short opera called Ghost Patrol, about soldiers returning from an unspecified war. The opera is part of a Scottish Opera season opening at the Edinburgh Festival.
With Kate Moss appearing in a video for George Michael's track White Light, and Daniel Radcliffe in a Snow Club video - David Quantick considers cameos in pop videos.
In celebration of the Olympics, the BBC - in partnership with the Scottish Poetry Library in Edinburgh - has selected and recorded a poem representing every country that's competing. Each poem is introduced and read by a native of the country in question, who has made their home here in Britain. Every night during the Olympics, Front Row features one of these poems.
Producer Rebecca Nicholson.
Chapters
Much Ado About Nothing

Much Ado About Nothing

Bidisha reviews Much Ado About Nothing starring Meera Syal

Duration: 05:34

Amish: A Secret Life

Amish: A Secret Life

Lynn Alleway discusses her documentary which follows an Amish family in the USA

Duration: 08:44

Cameos in Pop Videos

Cameos in Pop Videos

David Quantick considers cameos in pop videos

Duration: 04:33

Louise Welsh

Louise Welsh

Glasgow writer Louise Welsh talks about her latest novel, The Girl on the Stairs

Duration: 05:22

Olympic Poem

Olympic Poem

The sights and smells of Saudi Arabia are captured in Arabian Nights by Nimah Nawwab

Duration: 03:22