Main content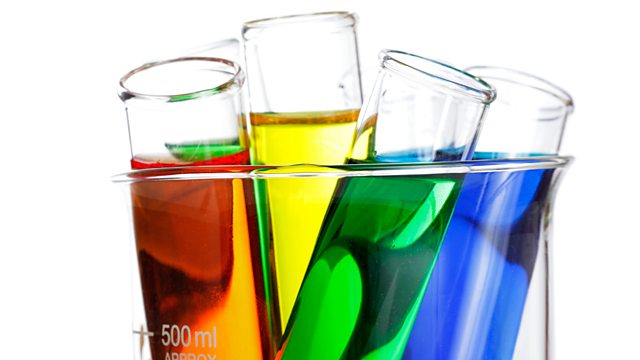 Whatever Happened to the Chemistry Set?
Dr Kat Arney charts the history of the chemistry set, talking to chemists about how it inspired kids of a previous generation, and then declined in popularity.
Unpacking a vintage Merit Chemistry set from the 1960s, complete with glass test tubes, alcohol burner, copper sulphate and box-cover picture of side-parting schoolboy in classic test-tube pouring pose, Dr Kat Arney lays out the history of the chemistry set and assesses its impact on a generation of scientists, before charting its decline in the final decades of the 20th Century.
In its heyday, the chemistry set fuelled the imagination of young amateur scientists, some of whom became Nobel prize winners - Linus Pauling, aged 11, was able to procure potassium cyanide for his set.
With academics claiming that a lack of hands-on experience leaves students ill-prepared for practical work in industry and higher education, Kat asks Whatever Happened To The Chemistry Set?
In early 20th century the sets focused on the magic of chemistry with wonderful colour changes. In the post war period they reflected the atomic and space-race world. By the 1970s they declined in popularity as health and safety issues and manufacturer's fears of litigation took hold. Perhaps they also just became boring and unfashionable.
The decline of their popularity reflects a similar decline in practical chemistry experiments in schools. Kat asks whether this has made chemistry less appealing to pupils and reduced interest in the subject.
Kat shares anecdotes and conducts chemistry set experiments with some of Britain's leading chemists, including the Royal Society's Professor Martyn Poliakoff, Andrea Sella from UCL, Lee Cronin from the University of Glasgow, Judith Hackett Chair of the Health and Safety executive and Hugh Aldersley-Williams author of Periodic Tales - The Curious Life of Elements.
Producer: Julian Mayers
A Testbed production for BBC Radio 4.
Last on

Broadcast