Main content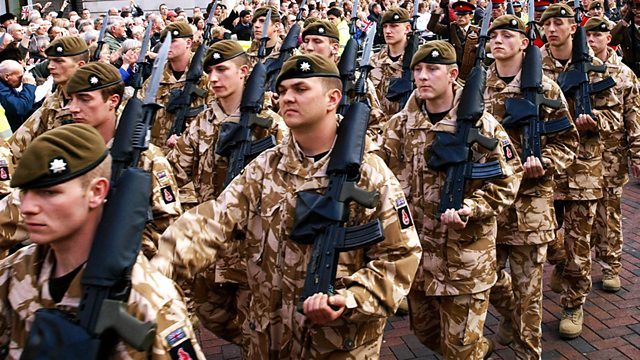 Violent Veterans
New research shows that one in ten soldiers returning from combat are displaying increased violent behaviour, both in the home and on the streets. Jane Deith investigates.
Thousands of British troops have been deployed to conflict zones since 2001, in the so-called War on Terror. Research is now beginning to confirm what many people have suspected - that a sizeable minority of returning soldiers - one in ten - are displaying increased levels of violence. This is impacting on families through domestic abuse and is raising the risk of people in the wider community becoming victims. With two years to go before frontline troops are pulled out of Afghanistan, is the Army doing enough to make sure returning soldiers are safe? And is the intensity of deployment to active combat zones making matters worse?
Presenter: Jane Deith Producer: David Lewis.
Is there a hidden epidemic of mental illness among soldiers who've served in Afghanistan?

Can Afghan forces guarantee the country's security when British and other troops pull out?

What is being done to tackle the threat of improvised explosive devices in Afghanistan.

Gerry Northam asks why it seems so hard to buy the right equipment for our forces.