Main content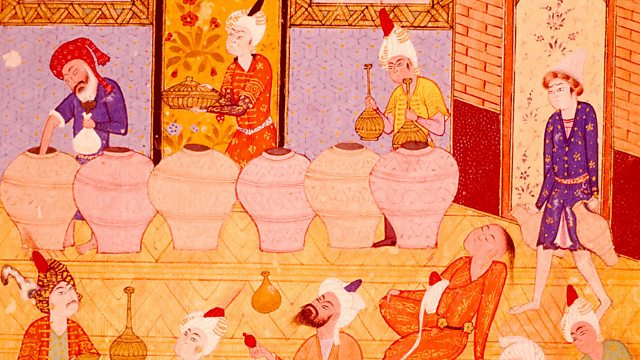 To accompany two concerts by the West-Eastern Divan Orchestra, Paul Farley explores the original 'West-Eastern Divan', Goethe's tribute to Persian poetry.
To complement the series of Beethoven concerts by the West-Eastern Divan orchestra, Paul Farley explores Goethe's poetic sequence, The West-Eastern Divan, from which Daniel Barenboim's orchestra takes its name.
In his later years, the German poet Johann Wolfgang von Goethe was new-fired by his reading of eastern poetry - particularly the work of the Persian poet Hafiz. Goethe's life-affirming and sensual poetic cycle, The West-Eastern Divan (1814-18) is essentially a love poem to Hafiz.
In the first of two linked features, Paul Farley explores Goethe's fascination with Arabic literature, and his admiration for Hafiz, whom he admired as both a hedonist and an enemy of dogmatic orthodoxy. The Divan is also, more poignantly, a way of mapping Goethe's own love affair with a young married woman, Marianne von Willemer - the real subject of the many sensual 'Suleika' poems.
Paul examines Goethe's role as a champion of eastern literature in the west and talks to poets and historians about the lasting legacy of the ideas that inform The West-Eastern Divan.
Produced by Emma Harding
Readings by Robert Blythe
Translations by Martin Bidney and David Luke
Notes on contributors:
Annette Seeman is a Weimar-based writer and President of the Friends of the Anna Amalia Library. Her books include "Weimar: A cultural history" and "Anna Amalia, Duchess of Weimar".
Marina Warner is a novelist, critic and author of "Stranger Magic: Charmed States and the Arabian Nights" (2011).
Silke Scheuermann was born in Karlsruhe in 1973 and now lives in Frankfurt am Main. She published her first volume of poetry, "Der Tag an dem die Möwen zweistimmig sangen" (The Day When the Seabirds Sang in Two Voices) in 2001. Her most recent works include the poetry collection "Über Nacht ist es Winter" (Winter Has Come Overnight) and a novel "Shanghai Performance".
Matthias Göritz was born in Hamburg in 1969 and he lives in Frankfurt am Main. He was awarded the Hamburg Literature Prize and the Mara Cassens Prize for his first novel "The short Dream of Jakob Voss" (2005). His poetry collections include "Loops" (2001), "Pools" (2006) and "Tools" (2012).
Rita Seifert is a Weimar-born writer. Her books include "Goethe and Napoleon" (2007) and "Maria Pavlovna, patron of the arts" (2011).
More episodes
Previous
You are at the first episode